April 8 – The Quodlibet Ensemble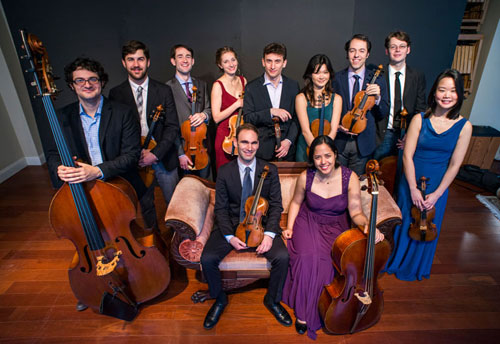 Fenton Brown Emerging Artists Concert
The New York-based string chamber orchestra of young, dynamic artists presents a range of great music, from the Baroque to the modern day.
Where and When:
Valley Regional High School
256 Kelsey Hill Road, Deep River, CT 06417
Click here to view in Google Maps
Sunday, April 8
Concert begins at 3:00 pm; doors open at 2:00 pm
Concert Program:
Mozart: B flat Major Divertimento K. 137
Nathan Schram: "For Becca"
Mendelssohn: Symphony No. 13 in C minor
Vivaldi: The Four Seasons
Artist Biography:
The Quodlibet Ensemble
Katie Hyun, founder and director
The Quodlibet Ensemble is a group of unique, accomplished and dedicated musicians who seek to learn from each other and explore the possibilities of an abundant musical spectrum. The players hold degrees from the Yale School of Music, Curtis Institute, Juilliard, New England Conservatory, and Harvard University, among others. Currently they pursue careers as performing artists in both solo and prominent chamber ensembles, ranging from an early music group, the Sebastians, to a contemporary ensemble, New Morse Code, to the Amphion String Quartet. A few of the players also serve as faculty at universities, such as the University of North Carolina at Chapel Hill and Connecticut College, in addition to their performing careers. The group was founded as a source where a wide variety of musical ideas can come into realization and bring together performers from different backgrounds (mainly early music and modern). Quodlibet Ensemble has performed at Yale University, both at the Center for British Arts and Dwight Chapel, and also performs every year for the Maxwell Shepherd Arts Fund in Collinsville, Conn., as well as the Spring Glen Church in Hamden, Conn. Their debut CD, Quodlibet Ensemble: Concerti Grosso, in which all players adapt gut strings, was released in the fall of 2014.
Our Venues:
Valley Regional High School
Kelsey Hill Road
Deep River, CT 06417
Click here to view in Google Maps
John Winthrop Middle School
1 John Winthrop Jr High School Drive
Deep River, CT 06417
Click here to view in Google Maps
Old Saybrook High School
1111 Boston Post Road
Old Saybrook, CT 06475
Click here to view in Google Maps
© Copyright 2017 Essex Winter Series. Essex Winter Series is 501(c)3 non-profit organization that has provided quality arts presentations for the Connecticut River Valley and Shoreline communities since 1978. EIN#06-0991889.