January 13 – New York Philharmonic String Quartet with Mihae Lee, piano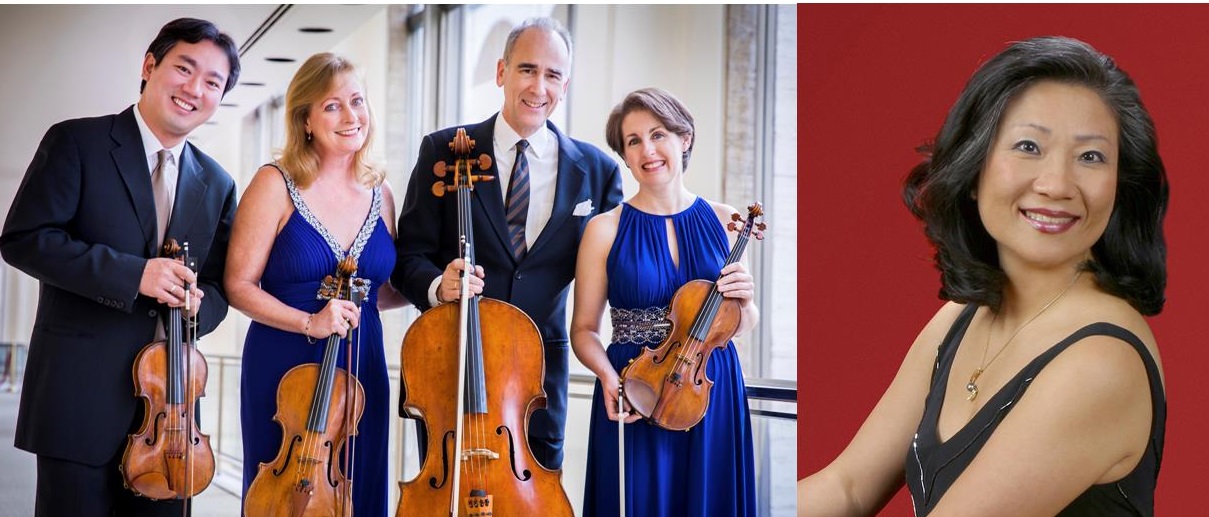 Co-sponsored by Jeffrey N. Mehler, CFP® LLC and Essex Meadows
Where and When:
Valley Regional High School
256 Kelsey Hill Road, Deep River, CT
Click here to view in Google Maps
Sunday, January 13
Concert begins at 3:00 pm; doors open at 2:00 pm
Concert Program:
OPUS 3 ARTISTS presents the
NEW YORK PHILHARMONIC STRING QUARTET
Frank Huang, Violin
Sheryl Staples, Violin
Cynthia Phelps, Viola
Carter Brey, Cello
Quartet in D minor, Op. 76, No. 2, "Die Quinten"                                      HAYDN (1732-1809)
Allegro
Andante o piu tosto allegretto
Menuetto: Allegro ma non troppo
Finale: Vivace assai
Quartet in F Major, Op. 96 "American Quartet"                                         DVORAK (1841-1904)
Quintet in E-flat Major for Piano and Strings, Op. 44                                 SCHUMANN (1810-1856)
Allegro brilliante
In modo d'un marcia: un poco largamente
Scherzo: molto vivace
Allegro ma non troppo
with special guest Mihae Lee
Artist Biographies:
New York Philharmonic String Quartet
The New York Philharmonic String Quartet comprises four Principal musicians from the Orchestra: Concertmaster Frank Huang (The Charles E. Culpeper Chair); Principal Associate Concertmaster Sheryl Staples (The Elizabeth G. Beinecke Chair); Principal Viola Cynthia Phelps (The Mr. and Mrs. Frederick P. Rose Chair); and Principal Cello Carter Brey (The Fan Fox and Leslie R. Samuels Chair).
The group was formed in January 2017, during the Philharmonic's 175th anniversary season; the New York Philharmonic String Quartet made its debut as the solo ensemble in John Adams's Absolute Jest in New York in March 2017, and reprised the work on the Orchestra's EUROPE / SPRING 2017 tour.
All four members are multiple prize winners, have appeared as concerto soloists with the Philharmonic and orchestras around the world, and have appeared frequently in the Philharmonic's chamber music series at David Geffen Hall and Merkin Concert Hall.
Frank Huang has performed at the Marlboro Music Festival, Ravinia's Steans Institute, Seattle Chamber Music Festival, and Caramoor. He frequently participates in Musicians from Marlboro's tours, and was selected by The Chamber Music Society of Lincoln Center to be a member of the prestigious CMS Two program. Before joining the Houston Symphony as concertmaster in 2010, Frank Huang held the position of first violinist of the Grammy Award–winning Ying Quartet.
Sheryl Staples has performed chamber music for U.S. Ambassadors in London, Paris, Berlin, Beijing, and Hong Kong. She toured Mexico, Brazil, and Chile in 2013, and she has appeared at summer festivals including La Jolla Music Society's SummerFest, Boston Chamber Music Society, Salt Bay Chamberfest, and the chamber music festivals of Santa Fe, Mainly Mozart, Seattle, Aspen, Sarasota, Martha's Vineyard, Strings Music Festival, and Brightstar. She appears on three Stereophile CDs with the Santa Fe Chamber Music Festival.
Cynthia Phelps performs with The Chamber Music Society of Lincoln Center, Jupiter Chamber Players, and the Santa Fe, La Jolla, Seattle, Chamber Music Northwest, and Bridgehampton festivals. She has appeared with the Guarneri, Tokyo, Orion, American, Brentano, and Prague Quartets, and the Kalichstein-Laredo-Robinson Trio. She is also a founding member of the chamber group Les Amies, a flute-harp-viola group with Philharmonic Principal Harp Nancy Allen and flutist Carol Wincenc.
Carter Brey has made regular appearances with the Tokyo and Emerson string quartets as well as The Chamber Music Society of Lincoln Center and at festivals such as Spoleto (both in the United States and Italy), and the Santa Fe and La Jolla Chamber Music festivals. He and pianist Christopher O'Riley recorded Le Grand Tango: Music of Latin America, a disc of compositions from South America and Mexico released on Helicon Records. These performances mark the debut of the New York Philharmonic String Quartet.
Mihae Lee, piano and Artistic Director
Praised by The Boston Globe as "simply dazzling," Artistic Director and pianist Mihae Lee has been captivating audiences throughout North and South America, Europe, and Asia in solo recitals and chamber music concerts with her poetic lyricism and scintillating virtuosity. She has performed in such venues as Lincoln Center, the Kennedy Center, Jordan Hall, Berlin Philharmonie, Academia Nationale de Santa Cecilia in Rome, Warsaw National Philharmonic Hall, and Taipei National Hall. An active chamber musician, Ms. Lee is a founding member of the Triton Horn Trio with violinist Ani Kavafian and French hornist William Purvis and was an artist member of the Boston Chamber Music Society for three decades. Her recordings of Brahms, Shostakovich, Bartok, and Stravinsky with the members of BCMS were critically acclaimed by High Fidelity, CD Review, and Fanfare magazines, the reviews calling her sound "as warm as Rubinstein, yet virile as Toscanini." Ms. Lee has appeared frequently at numerous international chamber music festivals including Dubrovnik, Amsterdam, Groningen, Festicamara (Colombia), Great Woods, Seattle, OK Mozart, Mainly Mozart, Music from Angel Fire, Chamber Music Northwest, Rockport, Sebago-Long Lake, Bard, Norfolk, Mostly Music, Music Mountain, Monadnock, and Chestnut Hill Concerts. In addition to many years of performing regularly at Bargemusic in New York, she has been a guest artist with the Chamber Music Society of Lincoln Center, St. Paul Chamber Orchestra, and Speculum Musicae; has collaborated with the Tokyo, Muir, Cassatt, and Manhattan string quartets; and has premiered and recorded works by such composers as Gunther Schuller, Ned Rorem, Paul Lansky, Henri Lazarof, Michael Daugherty, and Ezra Laderman. In addition to her concert career, Ms. Lee maintains her commitment to give back to her community and help many worthy charities. At the invitation of the Prime Minister and the First Lady of Jamaica, for many years she has organized and performed in concerts in Kingston and Montego Bay to benefit the Jamaica Early Childhood Development Foundation. She also brought world-class musicians, both classical and jazz, to perform in fund-raising concerts for the Hastings Education Foundation in Westchester County, and launched an annual Gala Concert for the Community Health Clinic of Butler County, a free health clinic outside of Pittsburgh. Born in Seoul, Korea, Ms. Lee made her professional debut at the age of fourteen with the Korean National Orchestra after becoming the youngest grand prizewinner at the prestigious National Competition held by the President of Korea. In the same year, she came to the United States on a scholarship from The Juilliard School Pre-College, and subsequently won many further awards including First Prize at the Kosciuszko Foundation Chopin Competition, the Juilliard Concerto Competition, and the New England Conservatory Concerto Competition. Ms. Lee received her bachelor's and master's degrees from The Juilliard School and her artist diploma from the New England Conservatory, studying with Martin Canin and Russell Sherman. She has released compact discs on the Bridge, Etcetera, EDI, Northeastern, and BCMS labels, and is currently Music Director of the Sebago-Long Lake Music Festival in Maine.
© Copyright 2022 Essex Winter Series. Essex Winter Series is 501(c)3 non-profit organization that has provided quality arts presentations for the Connecticut River Valley and Shoreline communities since 1978. EIN#06-0991889.