March 17 – New Haven Symphony Orchestra with 2019 Fenton Brown Emerging Artist Tai Murray, Violin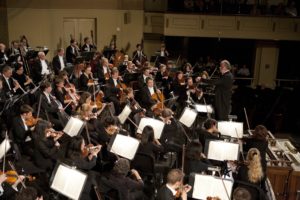 Fenton Brown Emerging Artist Concert
Sponsored by Masonicare at Chester Village; Artist Sponsored by Guilford Savings Bank
Where and When:
Valley Regional High School
256 Kelsey Hill Road, Deep River, CT
Click here to view in Google Maps
Sunday, March 17
Concert begins at 3:00 pm; doors open at 2:00 pm
Concert Program:
Symphony No. 31 in D Major               Mozart (1756-91)
Violin Concerto in G minor                 Prokofiev (1891-1953)
Adagio for Strings                                 Barber (1910-1981)
Symphony No. 102                               Haydn (1732-1809)
Artist Biography:
Tai Murray, Violin
2019 Fenton Brown Emerging Artist
An inspiring talent with a silky and sweet tone from even the highest registers of her instrument, impeccable intonation, dexterity, subtlety yet always vigorous and dramatic, the well-schooled and hugely musical Tai Murray has become an essential personality in today's classical musical world.
A former BBC young generation artist, member of the Marlboro Festival and of Lincoln Center's Chamber Music Society, she gives her London Proms Debut during the summer of 2016 with the BBC National Orchestra of Wales and Thomas Sondergard. Living between New York and Berlin, Tai has been heard on stages such as the Barbican, Queen Elisabeth and London Royal Albert Hall, aside orchestras such as Chicago Symphony, Atlanta Symphony, BBC Symphony Orchestra, Manchester BBC Philharmonic Orchestra, BBC Scottish Symphony Orchestra, BBC National Orchestra of Wales and Royal Liverpool Philharmonic.
In Germany, she has been invited by the Philharmonic Staatsorchester of Mainz, the Göttinger Symphonie Orchester and Düsseldorfer Symphoniker, and has toured with the Brandenburger Symphoniker and the Niederrheinische Sinfoniker. Tai Murray's critically acclaimed debut recording for harmonia mundi of Ysaye's six sonatas for solo violin was released in February 2012. Her second recording with works by American Composers of the 20th was released in November 2013 by the Berlin-based label eaSonus and her third disc with Bernstein's Serenade in 2014 by the French label mirare.
William Boughton, Music Director
William Boughton was born into a musical family: his grandfather (Rutland Boughton) was a composer, his father a professional viola player, and his mother a singer. After cello studies at the New England Conservatory (Boston), Guildhall School of Music (London), and Prague Academy, he entered the profession in London, playing with the Royal Philharmonic, BBS, and London Sinfonietta.
The experience of playing in orchestras led to a passion to pursue a career in conducting and he decided to return to studies first with George Hurst and then with Sir Colin Davis. In 1980, he formed the English Symphony Orchestra and developed the ESO's repertoire through the Baroque period to Viennese classics and into contemporary music. During his time with the ESO, he commissioned more than 20 works from such composers as Peter Sculthorpe, John Joubert, Anthony Powers, Michael Berkeley, John Metcalf, Stephen Roberts, and Adrian Williams. The depth of his partnership with the ESO was epitomized in 1985 when, as Artistic Director of the Malvern Festival, he collaborated with Sir Michael Tippett in presenting a musical celebration of the composer's eightieth birthday, which became the subject of a BBC "Omnibus" documentary.
With the ESO on Nimbus Records, he built a significant discography of internationally acclaimed recordings—predominantly of English music—a number of which reached the Top Ten on the US charts.
During his final years with the ESO, Boughton successfully launched the first ESO Elgar Festival in Malvern and Worcester, and also celebrated the orchestra's 25th Anniversary performing a complete Beethoven symphony cycle, in which he created a new series of pre-concert performances of British contemporary music, including works by Birtwistle, Knussen, Watkins, Woolrich, Holloway, and Turnage. He has participated in a number of high-profile arts programs for BBC Television, a radio program about Elgar that was broadcast in New York, Chicago, Washington, and Boston in 2006, and a series entitled "1st Eleven" for Classic FM, during the 2006 Soccer World Cup. He has guest conducted major orchestras around the world, including the San Francisco, London, and Helsinki Symphony Orchestras.
In July 2007, he became the tenth Music Director of the New Haven Symphony Orchestra, with whom he has instituted a Composer-in-Residence program and undertaken a major recording project of the works of William Walton; the first recording—Walton's Violin Concerto and First Symphony—was released by Nimbus in 2010 and selected as a Critic's Choice for 2010 by prestigious Gramophone Magazine. Under Mr. Boughton's leadership, the NHSO was awarded an ASCAP Award for Adventurous Programming in 2010.
Our Venues:
Valley Regional High School
Kelsey Hill Road
Deep River, CT 06417
Click here to view in Google Maps
John Winthrop Middle School
1 John Winthrop Jr High School Drive
Deep River, CT 06417
Click here to view in Google Maps
Old Saybrook High School
1111 Boston Post Road
Old Saybrook, CT 06475
Click here to view in Google Maps
© Copyright 2017 Essex Winter Series. Essex Winter Series is 501(c)3 non-profit organization that has provided quality arts presentations for the Connecticut River Valley and Shoreline communities since 1978. EIN#06-0991889.