March 8 – LINU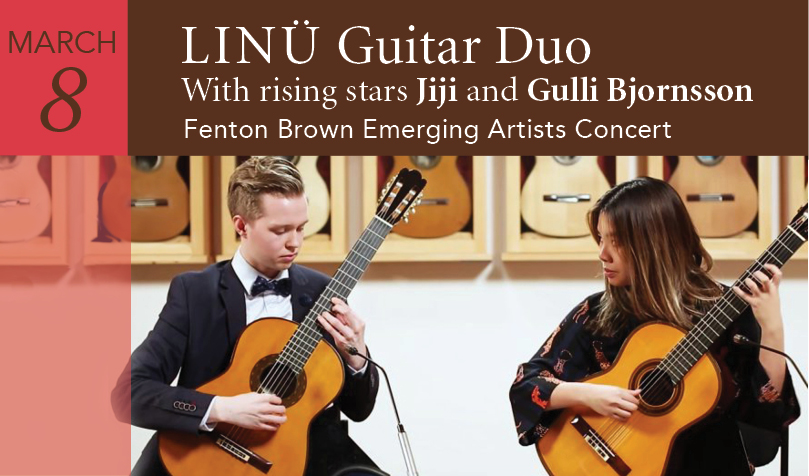 Fenton Brown Emerging Artists Concert
2020 Season sponsored by Masonicare at Chester Village
Concert Co-sponsored by an Anonymous Friend and the Fenton Brown Circle
Hospitality Sponsor: Guilford Savings Bank
Where and When:
John Winthrop Middle School
1 John Winthrop Road, Deep River, CT 06417
Click here to view in Google Maps
Sunday, March 8
Concert begins at 3:00 pm; doors open at 2:00 pm
Concert Program:
Baroque set:
A. Vivaldi – Prelude & Corrente, RV64
J.S. Bach – Orchestral Suite No. 3 in D major "Air on a G string"
Jean-Philippe Rameau – Suite in D major, RCT 3 8. Les Cyclopes. Rondeau 
H. Villa-Lobos – Cadenza: Quasi allegro – Andante – Quasi allegro – Poco moderato
(from Guitar Concerto, W501)
P. Glass – Mad Rush
A.Piazzolla – Libertango
Gulli Bjornsson – Bergmál
I. Albeniz – Asturias
Pyotr Tchaikovsky – Souvenir de Hapsal for piano, Op. 2, 1. Ruines d'un chateau
Lili Boulanger – Prélude en Ré
C. Debussy – Suite Bergamasque: IV. Passepied (Gieseking)
Ryuichi Sakamoto – Merry Christmas Mr. Lawrence
Manuel de Falla – Spanish dance no.1 "La Vida da Breve"
Artist Biography:
Gulli Bjornsson and Jiyeon Kim (JIJI) are two aspiring young artists searching for new ways to promote classical music. Both virtuosic and versatile, Gulli and Jiyeon have received multiple accolades for their guitar playing and have backgrounds in composition, film, electronic music, visual arts and theater. Their diverse backgrounds, classical training and contemporary influences all come to fruition as they present unique programs of classical music, improvisations, arrangements and new compositions on classical and electric guitars.
In recital, they have performed in a wide array of venues, including: Le Poisson Rouge, National Sawdust, Morse Recital Hall, Mengi, Hannesarholt, Yale British Art Gallery, East Meadow Public Library and Yale Cabaret. Upcoming performances include a a recital at the Dominican Guest Concert Series in San Fransisco.​
Gulli and Jiji met at Yale School of Music in 2015 and have been performing together and creating music ever since. Their primary studies have been with Benjamin Verdery, David Leisner, David Starobin and Jason Vieaux.
JIJI
Applauded by the Calgary Herald as "…talented, sensitive…brilliant," JIJI is an adventurous artist on both acoustic and electric guitar, playing a wide range of music from traditional and contemporary classical to free improvisation. Her impeccable musicianship combined with compelling stage presence and fascinating repertoire earned the Korean guitarist First Prize at the 2016 Concert Artists Guild International Competition.
The Kansas City Star described JIJI as "A graceful and nuanced player," adding that "…she presented an intimate, captivating performance" in reviewing her recent concerto debut appearance with Kansas City Symphony. A major highlight of JIJI's 2018-19 season is her Carnegie Hall/Stern Auditorium debut as soloist with the award-winning New York Youth Symphony, performing the world premiere of a new concerto written for her by American composer Natalie Dietterich.
Featured NYC recitals this season include JIJI's April 2019 Lincoln Center debut on the Great Performers series, preceded by 2018 Summer appearances at the Mostly Mozart Festival and the New York Guitar Seminar at Mannes. Other recitals include Grand Canyon Guitar Society and Arizona State University in Tempe, where JIJI joins the ASU Music school faculty as Assistant Professor of Guitar starting in fall 2018.
Currently sponsored by D'Addario Strings. JIJI's performances have been featured on PBS (On Stage at Curtis series), NPR's From the Top, WHYY-TV, FOX 4-TV, Munchies (the Vice Channel), The Not So Late Show (Channel 6, Kansas), and Hong Kong broadcast station RTHK's The Works. Her new EP recording, Underglow, was released in May 2018, featuring acoustic guitar music by Bach, Albeniz, Ginastera and Dyens, in addition to her own composition for electric guitar and electronics.
A passionate advocate of new music, JIJI has premiered a duo piece Talking Guitars by renowned composer,Paul Lansky, and as a recipient of the 2017 BMI commissioning award resulting from the CAG Competition, JIJI has commissioned Nina C. Young to write a new guitar piece scheduled for premiere during 2018-19. In addition, the American Composers Orchestra is commissioning a new guitar concerto by Hilary Purrington, to be premiered by JIJI in an upcoming season. She has premiered works by numerous emerging composers, including Gabriella Smith, Riho Maimets, Krists Auznieks, Gulli Björnsson, Andrew McIntosh, and Farnood HaghaniPour.
She also performs her own compositions, incorporating electronic media and acoustic music, and she recently worked as a composer with the Yale Repertory Theater, Yale Cabaret, and Yale school of Art. Her music is influenced by her regular activities as a DJ, where she highlights the electronic dance styles of happy hardcore and Berlin experimental electronica. Recent highlights include a wide array of venues, including: Weill Recital Hall at Carnegie Hall, National Sawdust, Miller Theater, Krannert Center for the Performing Arts, Purdue Convocations, Mass MOCA, Le Poisson Rouge, Philadelphia Museum of Art, Princeton Sound Kitchen, Virginia Arts Festival, Festival Napa Valley, 92 nd Street 'Y' and the Metropolitan Museum of Art. Her recent tour in Hong Kong consisted of performances collaborating with a performance Artist, a traditional Chinese instrument ensemble, and an Erhu player in art galleries, clubs, and even on a moving trolley. As a chamber musician, she performed with members of Eighth Blackbird, members of one beat project, members of Bang on a Can All-Stars, Wild Up, Tanglewood Chamber orchestra, The Industry, cellist Tessa Seymour, and the Aizuri and Argus Quartets.
Born in Seoul, South Korea, JIJI (Jiyeon Kim) began playing classical guitar at the age of nine, and was accepted to the Korea National University of Arts at age fourteen. She attended the Cleveland Institute of Music for two years, studying with Jason Vieaux, and was accepted at the Curtis Institute of Music in 2011 as one of the first two guitarists in Curtis' distinguished history. She graduated Curtis in 2015, as a student of Mr. Vieaux and David Starobin, and she recently earned her Master of Music degree from the Yale School of Music, studying with Benjamin Verdery. She is excited about her upcoming adventures as a new resident of Arizona, and in her
spare time, she enjoys cooking and creating weird sounds on Ableton.
GULLI BJORNSSON is a guitarist and composer from Iceland. Bjornsson's music typically blends electronics, acoustic instruments and visuals in a variety of contexts. Most recently Gulli released his debut album Bergmál with his own compositions for guitar, strings and laptop. You can find it on all major online platforms.
Currently He is a candidate for a Ph.D. degree in composition at Princeton University.
Bjornsson's compositions have recently been featured by: Carnagie Hall, 92nd Street Y, Le Poisson Rouge, Centre Culturen Canadian Paris, Ung Nordisk Musik, Purdue Convocations, Krannert Center, Rockefeller tri-University Recital series, Müzewest Concerts, KPU music, Nantucket Musical Arts Society, Yale Cabaret Series, Yale Laptop Ensemble, Harpa, Mengi and RÁS 2.
Gulli has been the recipient of multiple awards for his guitar playing. Gulli received 1st prize at Nótan a national music competition in Iceland in 2010 and was a winner of the Lilian Fuch's Chamber Music Competition in 2013. In 2014 he received the Andrés Segovia Award from Manhattan School of Music for excellence in guitar studies. He's has also been a finalist in international competitions such as the ASTA National Solo Competition, European Guitar Award and the International Young Talents Competition. He has also received grants from distinguished institutions such as Fulbright, the American Scandinavian Foundation, Valitor, Landsbankinn and the International Advisory Board. Most recently Gulli was the recipient of the Eliot Fisk Prize for his studies at Yale School of Music.
He's performed at some of the most prestigious concert venues in America including, 92nd st Y, Le Poisson Rouge, National Sawdust, WQXR, Merkin Hall, Symphony Space, Yale British Art Gallery and Woolsey Hall.  Gulli has also performed as a soloist with the MSM Symphony and Yale Philharmonia.
He received his Bachelor of Music degree from Manhattan School of Music and Master of Music and Master of Musical Arts degrees from Yale School of Music. His primary teachers were David Leisner and Ben Verdery.
© Copyright 2022 Essex Winter Series. Essex Winter Series is 501(c)3 non-profit organization that has provided quality arts presentations for the Connecticut River Valley and Shoreline communities since 1978. EIN#06-0991889.