Gift of Music Concert 2 with Jeff Barnhart … and All That Jazz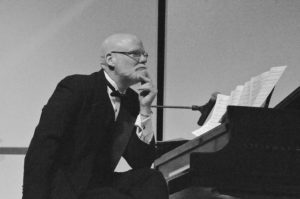 Stu Ingersoll Jazz Concert
2021 Season sponsored by Clark Group, Essex Meadows, Jeffrey N. Mehler, CFP, Masonicare at Chester Village, and Tower Laboratories
Where and When:
Virtual concert has been re-released and is available until July 25, 2021. Click here to view.

Concert Program:
To be announced in the virtual performance.
Artist Biography:
Jeff Barnhart, piano
Jeff Barnhart is an internationally renowned pianist, vocalist, arranger, bandleader, recording artist, an ASCAP composer, educator and entertainer.  Jeff began his professional career at age 14 playing and entertaining four nights a week in a restaurant in his home state of Connecticut. Here he began to learn the classic swing, jazz and ragtime repertoire of the early 20th century. The 21st century has found Jeff constantly appearing as a soloist and band pianist at parties, festivals, clubs and cruises throughout the world.  In addition, he leads two bands in the UK: the Fryer-Barnhart International Jazz Band, which concentrates on hot music of the 1920's, and Jeff Barnhart's British Band, which performs small group swing of the 30's. Due to his versatility, vast repertoire and vibrant energy, Jeff is in constant demand as a participant in international jazz events as either a soloist or as pianist in All-Star Jazz ensembles. In addition to his widely acclaimed solo and band appearances, Jeff is enjoying great success performing with smaller groups, most notably Ivory&Gold®, a group he co-leads with his talented wife, flutist/vocalist Anne Barnhart. Ivory&Gold® has become a mainstay at many jazz and ragtime festivals throughout the US, the UK and Europe.
Jeff enjoys playing dual piano and has done so with such jazz luminaries as Ralph Sutton, Neville Dickie, Louis Mazetier, John Sheridan and Brian Holland. In addition to his own label, Jazz Alive Records, Jeff plays piano and sings on the international labels GHB, Summit-World Jazz Records, Music Minus One, and the two largest jazz labels in the UK, Lake Records and P.E.K. Sound.  In 2006, Jeff joined the roster of artists featured on the Arbors Records label, with 4 recordings currently available:  the most recent featuring jazz legends Bob Wilber and Bucky Pizzarelli. Jeff has recorded as both pianist and vocalist on over 100 full-length albums.  He averages 40 weeks a year on the road, bringing his music to all corners of the globe. Music composer, performer and reviewer Jack Rummel, recently summed up the reason for Jeff's popularity, averring, "When it comes to talent, speed, versatility, creativity, mastery of multiple genres and just plain entertaining zaniness, Jeff Barnhart stands alone".
In addition to his active performance and recording schedule, Jeff is a dedicated and enthusiastic educator.  His double BA in Music and English, combined with his MA in Education, make Jeff a formidable and entertaining force in the clinic, master class and inspirational speaking forums. In the first quarter of 2015, he and Anne have appeared as clinicians at Lone Star College in Kingwood, TX, The University of Colorado Denver and Mississippi State University.
© Copyright 2022 Essex Winter Series. Essex Winter Series is 501(c)3 non-profit organization that has provided quality arts presentations for the Connecticut River Valley and Shoreline communities since 1978. EIN#06-0991889.