Gift of Music Concert 3 with Patricia Schuman & David Pittsinger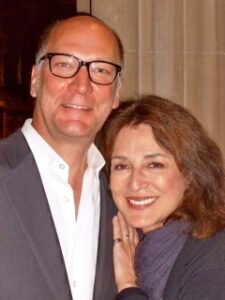 2021 Season sponsored by Clark Group, Essex Meadows, Jeffrey N. Mehler, CFP, Masonicare at Chester Village, and Tower Laboratories
Where and When:
Virtual concert has been re-released and is available until July 25, 2021. Click here to view.

Concert Program:
Patricia Schuman, soprano
David Pittsinger, bass-baritone
Simon Holt, piano
Robert Schumann: Two Duets
Die Tausend Grüsse (A Thousand Greetings), Mienenspiel, Op. 101, No. 7
So wahr die Sonne scheinet (As True as the Sun Shines)
Franz Schubert:
An die Musik (To Music)
Gabriel Fauré:
Apres un rêve (After a Dream), Op. 7, No. 1
Clair de lune (Moonlight), Op. 46, No. 2
Gustav Mahler: Two Songs from Die Rückert-Lieder
Blicke mir nicht in die Lieder (Do Not Look into My Songs)
Ich bin der Welt abhanden gekommen (I Am Lost to the World)
Antonín Dvořák/A. Heyduk:
Songs My Mother Taught Me, B. 104, Op. 55
Robert Schumann/C. F. Hebel:
Wiegenlied am Lager eines kranken Kindes (Lullaby by the Bed of a Sick Child)
Artist Biographies:
Patricia Schuman, soprano

Internationally celebrated soprano Patricia Schuman continues to garner the highest critical acclaim for her work on the operatic stage. Exceptionally high praise for her stunning singing and riveting portrayals of The Duchess (Powder Her Face) for Opera Philadelphia and Elvira Griffiths (An American Tragedy) at the Glimmerglass Festival clearly confirm that Ms. Schuman is a brilliant interpreter of newly commissioned 21st century operatic roles. Ms. Schuman has been engaged by the most distinguished opera houses throughout Europe and the United States, and she has collaborated with the finest conductors and directors in the industry. In Europe she has been seen at the Royal Opera House Covent Garden, Vienna State Opera, La Scala, the Salzburg Festival, the Glyndebourne Festival, Aix-en-Provence, Edinburgh Festival, Flemish Opera, Rome Opera, and major houses in Toulouse, Zurich, Bologna and Cologne. In the United States, she has performed on the stages of The Metropolitan Opera, Houston Grand Opera, Pittsburgh Opera, Seattle Opera, Opera Philadelphia and the Glimmerglass Festival. Recently Ms. Schuman returned to Opera Philadelphia to perform in a newly commissioned work, Breaking the Waves based on the 1996 film directed by Lars von Trier, sang Bloody Mary in South Pacific at the Ivoryton Playhouse, and reprised The Duchess (Powder Her Face) for Odyssey Opera in Boston. In December 2016, she sang The Messiah with the New Jersey Symphony, alongside husband, David Pittsinger.
Recordings include Florencia en el Amazonas (Albany), soprano soloist in Handel's Messiah (Entertainment One – formerly Koch), the Bertoni mass, Veni Creator (Erato) under the baton of Claudio Scimone, and Ruggiero in Rossini's Tancredi with Marilyn Horne (Sony). She can be seen on video as Poppea (L'incoronazione di Poppea), Donna Elvira (Don Giovanni) from ROH, and Countess Almaviva (Le nozze di Figaro).
Ms. Schuman resides in Connecticut with her husband, David Pittsinger, and their two children.
David Pittsinger, bass-baritone

The American bass-baritone, David Pittsinger, holds a Master's degree in vocal performance from the Yale School of Music and was a recipient of the "Outstanding Alumnus Award" at his undergraduate alma mater, the University of Connecticut. Upon graduation, he became a member of the Merola Program at the San Francisco Opera.
Mr. Pittsinger is renowned as a stage performer of the greatest distinction for his dramatic portrayals in the world's major opera houses. Of his Helen Hayes Award-nominated performance as Emile de Becque in Rodgers & Hammerstein's South Pacific at the Kennedy Center, the Washington Times wrote: "His brilliant, knife-clean bass-baritone voice, impeccable enunciation – even with a French accent – and his authoritative, passionate delivery provide the perfect mix of romance, passion, and traditional masculine bravado. And his vocal delivery of 'Some Enchanted Evening' as well as the sorrowing 'This Nearly Was Mine' registers extraordinarily high on the three-hanky scale. His Emile is perhaps the definitive interpretation of this role in our time."
Mr. Pittsinger's wide-ranging repertoire includes a special affinity for the virtuosic music of the Baroque. He has been lauded for his performances of Zoroastro in Handel's Orlando (Glimmerglass Opera under Bernard Labadie and at New York City Opera); as Cadmus and Somnus in David McVicar's production of Semele at the Theatre des Champs-Elysées in Paris and opposite Cecilia Bartoli in Robert Carson's production of Semele at Theater an der Wien under the baton of William Christie; as Atamante in Piero Cesti's L'Argia at the Champs-Elysées and Lausanne conducted by René Jacobs; as Harapha in Samson with the Philharmonia Baroque Orchestra under Nicholas McGegan; as Seneca in Robert Carson's production of L'incoronazione di Poppea at Theater an der Wien; and as Melisso in Handel's Alcina at San Francisco Opera.
His elegant musicianship also puts him in high demand for challenging 20th and 21st century scores including the title role of Massenet's Don Quichotte at the Klangbogen Festival in Vienna and the Teatro Colon, Buenos Aires; his Nick Shadow in Stravinsky's The Rake's Progress has been seen in Paris, Hamburg, Bordeaux, Lausanne, Cologne, Brussels and at the Wiener Festspiele; his Creon in I. Stravinsky's Oedipus Rex has been seen at the Teatro San Carlo di Napoli and on tour in Athens. He has also sung the Count in Schreker's Der Ferne Klang at the Théâtre Royal de la Monnaie; Rev. Olin Blitch in Carlisle Floyd's Susannah at the Opera Company of Philadelphia and in Vancouver, and the Nemeses in Benjamin Britten's Death in Venice at Glimmerglass Opera. Also at Glimmerglass Opera, Pittsinger and his wife, soprano Patricia Schuman, sang the world premiere of A Blizzard at Marblehead Neck, an opera by Jeanine Tesori and Tony Kushner based on the marriage of Eugene O'Neill and Carlotta Monterey.
Of the repertoire of the 18th and 19th centuries, Mr. Pittsinger has performed Mozart's Don Giovanni at the Opera Company of Philadelphia, New York City Opera, Florida Grand Opera and Opera Colorado; Don Alfonso in Mozart's Così fan tutte at the Opera Company of Philadelphia; Rodolfo in La Sonnambula for his debut at the Teatro Massimo in Palermo and a staged production of Verdi's Requiem at English National Opera. Other roles include Selim in Il Turco in Italia, the four Villains in Les Contes d'Hoffmann, the Comte des Grieux in Manon, the Speaker in Mozart's The Magic Flute, Count Almaviva in W.A. Mozart's Le nozze di Figaro, Angelotti and Scarpia in Tosca (Metropolitan Opera and Florida Grand Opera, respectively), Cappellio in I Capuleti ed i Montecchi, Colline in La Bohème, Publio in Mozart's La Clemenza di Tito, Mephistopheles in Charles Gounod's Faust at Seattle Opera, l'Opéra de Montréal, Madison Opera, Calgary Opera, and the Opera Theatre of St. Louis. His dual portrayals of Mephistopheles earned him the "Artist of the Year" from the Pittsburgh public for both the Charles Gounod and Arrigo Boito operas.
Mr. Pittsinger's Helen Hayes Award-nominated performance as Emile de Becque in Rodgers & Hammerstein's South Pacific has been seen at the Kennedy Center and Lincoln Center Theater, and on national tour with performances in Toronto, Philadelphia, St. Louis, Providence, Cleveland, Pittsburgh, Spokane, and Costa Mesa, among other cities.
Orchestral engagements have included Verdi's Requiem with the Los Angeles Philharmonic Orchestra under Zubin Mehta; Beethoven's Symphony No. 9 under Leonard Slatkin with the National Symphony Orchestra and the Dallas Symphony Orchestra under the baton of Jiří Bělohlávek; Missa Solemnis with the Houston Symphony Orchestra under Hans Graf and with I Solisti Veneti; Rossini's Petite Messe Solennelle with the Gulbenkian Orchestra in Lisbon, under the direction of Claudio Scimone; Messiah with the Houston Symphony Orchestra under Nicholas McGegan, the Baltimore Symphony and the National Symphony Orchestra; the Wiener Philharmoniker in performances of Frank Martin's Golgotha; Berlioz' Roméo et Juliette with l'Orchestre de Lille under Mark Elder, The Rake's Progress with the West Deutsche Rundfunk, Maria Stuarda conducted by Richard Bonynge and L'Enfance du Christ with John Nelson – both with the National Orchestra Radio France; J.S. Bach's Christmas Oratorio (BWV 248) with the Amsterdamse Bach Solisten, C. Gounod's Mors et Vita under the baton of Michael Plasson, and the role of Alfonso in Lucrezia Borgia with VARA Radio at the Royal Concertgebouw in Amsterdam. He has performed at major American summer festivals including Grant Park and Tanglewood and has sung Haydn's Creation, Bach's St. Matthew Passion (BWV 244) and Cantata BWV 82 (Ich habe genug) and Brahms' Liebeslieder Walzer at the Bellingham Festival.
Operatic highlights of Mr. Pittsinger's recent seasons include appearances at the Metropolitan Opera in Bartlett Sher's production Les Contes d'Hoffmann as Luther and Crespel under the batons of James Levine and Yves Abel, as well as Poulenc's Dialogues des Carmélites as the Marquis de la Force conducted by Louis Langrée; his return to Portland Opera as Jochanaan in Salome in a production by Stephen Lawless and conducted by George Manahan; Francesca Zambello's production of Daniel Catán's Florencia en el Amazonas at Los Angeles Opera and Washington National Opera, where he also sang Roy Disney in the American premiere of Philip Glass' The Perfect American and the Speaker in a new production of The Magic Flute conducted by Philippe Auguin; his summer performances at the Glimmerglass Festival as King Arthur in Lerner and Loewe's Camelot also directed by Francesca Zambello; and a reprise of his Helen Hayes Award-nominated performance as Emile de Becque in Rodgers & Hammerstein's South Pacific at the Riverside Theater in Vero Beach.
Mr. Pittsinger's recent orchestral engagements include: a concert staging of Britten's Peter Grimes with David Robertson and the Saint Louis Symphony Orchestra, both in Saint Louis and at Carnegie Hall; Rachmaninov's The Bells with the Houston Symphony Orchestra; Stravinsky's Pulcinella and Haydn's Missa in tempore belli with Rafael Frühbeck de Burgos and the Boston Symphony Orchestra; and the world premiere of Scott Eyerly's Arlington Sons – composed for David Pittsinger and his son Richard, a boy soprano – with Leonard Slatkin and the Pittsburgh Symphony Orchestra, which was released on CD in 2014.
Recently Mr. Pittsinger returned to The Metropolitan Opera to sing Le Bret in Francesca Zambello's production of Franco Alfano's Cyrano de Bergerac. He also reprises his celebrated assumption of Fred Graham in Kiss Me, Kate, directed by Lee Blakely at the Théâtres de la Ville de Luxembourg, which he previously debuted at the Théâtre du Châtelet. Additional engagements include his role debut as Cervantes/Don Quixote in Mitch Leigh's Man of La Mancha at the Ivoryton Playhouse. Concert work included a semi-staged production and recording of Leonard Bernstein's A Quiet Place with the Montreal Symphony Orchestra conducted by Kent Nagano, Beethoven's Missa Solemnis with the Cincinnati Symphony Orchestra led by Juanjo Mena, Handel's Messiah with the New Jersey Symphony Orchestra, and a concert of American songs with the Riverside Theatre in Vero Beach, Florida.
David Pittsinger can be heard on the Grammy Award-winning Virgin Classics recording of Carlysle Floyd's Susannah and in La Calisto by Cavalli on the Harmonia Mundi label.
© Copyright 2022 Essex Winter Series. Essex Winter Series is 501(c)3 non-profit organization that has provided quality arts presentations for the Connecticut River Valley and Shoreline communities since 1978. EIN#06-0991889.