Gift of Music Concert 4 with Quodlibet Ensemble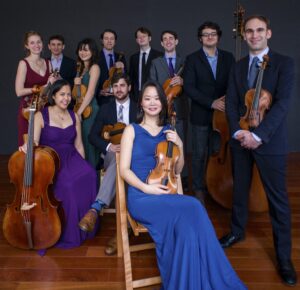 ​
2021 Season sponsored by Clark Group, Essex Meadows, Jeffrey N. Mehler, CFP, Masonicare at Chester Village, and Tower Laboratories
Where and When:
Virtual concert has been re-released and is available until July 25, 2021. Click here to view.

Concert Program:
Tchaikovsky: String Sextet in D Minor, Op.70, "Souvenir de Florence"   
 I. Allegro con spirito
II. Adagio cantabile e con motto
III. Allegretto moderato
IV. Allegro con brio e vivace
Artist Biography:
Quodlibet Ensemble

featuring

Katie Hyun, violin
Laura Lutzke, violin
Ayane Kozasa, viola
Kyle Miller, viola
Gabriel Cabezas, cello
Paul Wiancko, cello 
Quodlibet (/ˈkwɒdlɪbɛt/; Latin for "whatever you wish" from quod, "what" and libet, "pleases")
The Quodlibet Ensemble is a collective of creators and string players with a mission to produce creative musical experiences that engage, entertain and invite people to invest in their communities. The players hold degrees from the Curtis Institute of Music, the Juilliard School, Yale University, New England Conservatory, the Royal Conservatory of Music, the Cleveland Institute, and Harvard College among others. Currently they pursue careers as performing artists in both solo and prominent chamber ensembles that cover a wide range of musical styles, including ACRONYM, New Morse Code, Aizuri Quartet, Diderot String Quartet, Founders, A Far Cry, American Contemporary Ensemble, NOVUS Trinity and Trinity Baroque Orchestra. In addition to their performing careers, the members also hold teaching positions at the University of Kansas School of Music, visiting artist at the Crane School of Music in SUNY, and Musicambia, an organization dedicated to bringing music education into correctional facilities. Quodlibet Ensemble has performed at the Baryshnikov Arts Center, Rockefeller University, the Essex Winter Series, Yale University British Arts Center and Dwight Chapel, the Maxwell Shepherd Arts Fund in Collinsville, CT, and Spring Glen Church in Hamden, CT. Their debut CD, Quodlibet Ensemble: Concerti Grossi, in which all players adapted gut strings, was released in the fall of 2014.
© Copyright 2022 Essex Winter Series. Essex Winter Series is 501(c)3 non-profit organization that has provided quality arts presentations for the Connecticut River Valley and Shoreline communities since 1978. EIN#06-0991889.