Welcome to our 2023 Season!
December 18 – Brentano String Quartet with Mihae Lee, piano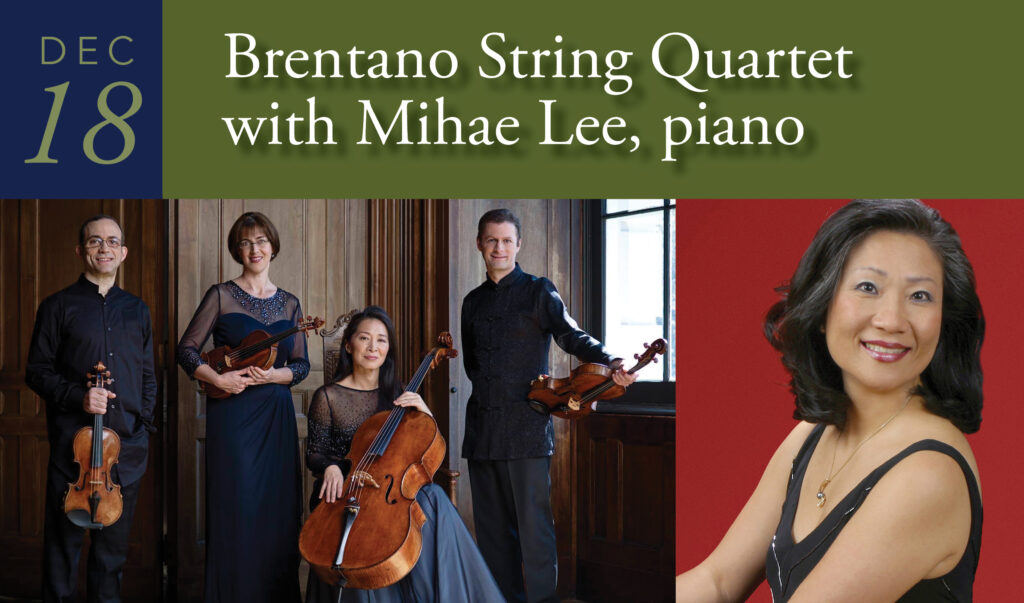 As a precautionary measure to protect all who come to our concerts, attendees must follow the CoVid Safety Policy we have established. Click here to view.
Concert Co-sponsored by Jeffrey N. Mehler, CFP® LLC and Essex Meadows

Where and When:
This concert took place on December 18, 2022.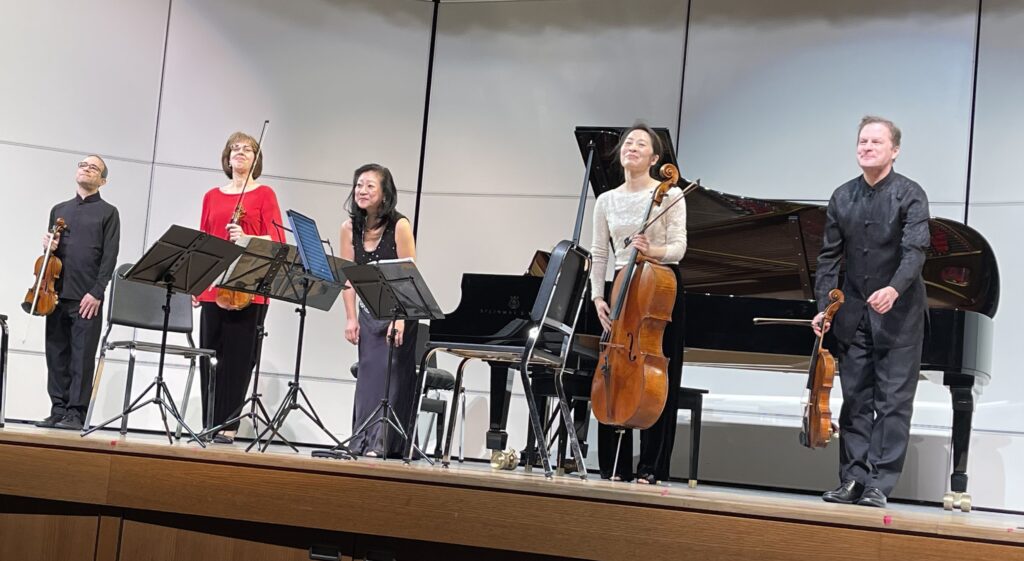 VALLEY REGIONAL HIGH SCHOOL
256 Kelsey Hill Road, Deep River, CT
Click here to view in Google maps.

Sunday, December 18, 2022
Concert begins at 3:00 pm; outer doors open at 2:00 pm; auditorium doors open at 2:30 pm.
Concert Program:
BRENTANO STRING QUARTET AND MIHAE LEE, PIANO

Misha Amory, viola
Serena Canin, violin
Nina Lee, cello
Mark Steinberg, violin
Mihae Lee, piano
String Quartet in B-flat Major, Op. 33 No. 4 – Franz Josef Haydn (1732-1809)
String Quartet in E-flat Major – Fanny Mendelssohn Hensel (1805-1847)
Piano Quintet in E-Flat Major, Op. 44 – Robert Schumann (1810-1856)
with Mihae Lee, piano
Artist Biographies:
Brentano String Quartet

Brilliant, virtuosic, and still mellow, its members perfectly meshed in sound while retaining their individual personalities—the Brentano Quartet…must be one of the great musical hopes of a field overcrowded with contenders…The [players] made every utterance sing and every phrase connect within the total."
— Los Angeles Times
Since its inception in 1992, the Brentano String Quartet has appeared throughout the world to popular and critical acclaim. "Passionate, uninhibited and spellbinding," raves the London Independent; the New York Times extols its "luxuriously warm sound [and] yearning lyricism."
Within a few years of its formation, the Quartet garnered the first Cleveland Quartet Award and the Naumburg Chamber Music Award and was also honored in the U.K. with the Royal Philharmonic Award for Most Outstanding Debut. Since then, the Quartet has concertized widely, performing in the world's most prestigious venues, including Carnegie Hall in New York; the Library of Congress in Washington; the Concertgebouw in Amsterdam; the Konzerthaus in Vienna; Suntory Hall in Tokyo; and the Sydney Opera House.
In addition to performing the entire two-century range of the standard quartet repertoire, the Brentano Quartet maintains a strong interest in contemporary music, and has commissioned many new works. Their latest project, a monodrama for quartet and voice called "Dido Reimagined," was composed by Pulitzer-winning composer Melinda Wagner and librettist Stephanie Fleischmann, and will premiere in spring 2022 with soprano Dawn Upshaw.  Other recent commissions include the composers Matthew Aucoin,  Lei Liang, Vijay Iyer, James Macmillan, and a cello quintet by Steven Mackey (with Wilhelmina Smith, cello.)
The Brentano Quartet has worked closely with other important composers of our time, among them Elliot Carter, Charles Wuorinen, Chou Wen-chung, Bruce Adolphe, and György Kurtág.  They have also been privileged to collaborate with such artists as soprano Jessye Norman, mezzo-soprano Joyce DiDonato, and pianists Richard Goode, Jonathan Biss, and Mitsuko Uchida. The Quartet has recorded works by Mozart and Schubert for Azica Records, and all of Beethoven's late Quartets for the Aeon label. In 2012, they provided the central music (Beethoven Opus 131) for the critically-acclaimed independent film A Late Quartet.
Since 2014, the Brentano Quartet has served as Artists-in-Residence at the Yale School of Music. They were formerly the Ensemble-in-Residence at Princeton University, and were twice invited to be the collaborative ensemble for the Van Cliburn International Piano Competition.
The Quartet is named for Antonie Brentano, whom many scholars consider to be Beethoven's "Immortal Beloved", the intended recipient of his famous love confession.
Misha Amory, viola
Since winning the 1991 Naumburg Viola Award, Misha Amory has been active as a soloist and chamber musician. He has performed with orchestras in the United States and Europe, and has been presented in recital at New York's Tully Hall, Los Angeles' Ambassador series, Philadelphia's Mozart on the Square festival, Boston's Gardner Museum, Houston's Da Camera series and Washington's Phillips Collection. He has been invited to perform at the Marlboro Festival, the Seattle Chamber Music Festival, the Vancouver Festival, the Chamber Music Society at Lincoln Center and the Boston Chamber Music Society, and he has released a recording of Hindemith sonatas on the Musical Heritage Society label. Mr. Amory holds degrees from Yale University and the Juilliard School; his principal teachers were Heidi Castleman, Caroline Levine and Samuel Rhodes. Himself a dedicated teacher, Mr. Amory serves on the faculties of the Juilliard School in New York City and the Curtis Institute in Philadelphia.
Serena Canin, violin
Violinist Serena Canin was born into a family of professional musicians in New York City. An accomplished chamber musician, Ms. Canin was twice invited to the Marlboro Music Festival and has toured the United States with Music From Marlboro, the Brandenburg Ensemble, and Goliard Concerts. In New York, she has made frequent appearances on the Continuum Series at Alice Tully Hall and at the Mannes Beethoven Institute. Ms. Canin has taught chamber music to young musicians at the Chamber Music Society of Lincoln Center and the Chamber Music Center of New York. She holds degrees from Swarthmore College and the Juilliard School, where her principal teachers were Burton Kaplan and Robert Mann. She lives in Manhattan with her husband, pianist Thomas Sauer, and their two sons.
Nina Lee, cello
An active chamber musician, Nina Lee has collaborated with many artists such as Felix Galimir, Jaime Laredo, David Soyer, Nobuko Imai, Isidore Cohen and Mitsuko Uchida, and has performed at the Marlboro and Tanglewood Music Festivals. She has toured with Musicians from Marlboro and has participated in the El Paso International Chamber Music Festival. She is the recipient of a Music Certificate from the Curtis Institute of Music, and Bachelor's and Master's degrees in music from the Juilliard School, where her teacher was Joel Krosnick. Ms. Lee teaches at Princeton University and Columbia University.
Mark Steinberg, violin
Mark Steinberg is an active chamber musician and recitalist. He has been heard in chamber music festivals in Holland, Germany, Austria, and France and participated for four summers in the Marlboro Music Festival, with which he has toured extensively. He has also appeared in the El Paso Festival, on the Bargemusic series in New York, at Chamber Music Northwest, with the Chamber Music Society of Lincoln Center, and in trio and duo concerts with pianist Mitsuko Uchida, with whom he presented the complete Mozart sonata cycle in London's Wigmore Hall in 2001, with additional recitals in other cities, a project that continues for the next few years. Mr. Steinberg has been soloist with the London Philharmonia, the Los Angeles Philharmonic, the Kansas City Camerata, the Auckland Philharmonia, and the Philadelphia Concerto Soloists, with conductors such as Kurt Sanderling, Esa-Pekka Salonen and Miguel Harth-Bedoya. Mark Steinberg holds degrees from Indiana University and The Juilliard School and has studied with Louise Behrend, Josef Gingold, and Robert Mann. An advocate of contemporary music, Mr. Steinberg has worked closely with many composers and has performed with 20th century music ensembles including the Guild of Composers, the Da Capo Chamber Players, Speculum Musicae, and Continuum, with which he has recorded and toured extensively in the U.S. and Europe. He has also performed and recorded chamber music on period instruments with the Helicon Ensemble, the Four Nations Ensemble, and the Smithsonian Institute. He has taught at Juilliard's Pre-College division, at Princeton University, and New York University, and is currently on the violin faculty of the Mannes College of Music.
Mihae Lee, piano and Artistic Director
Praised by The Boston Globe as "simply dazzling," Artistic Director and pianist Mihae Lee has been captivating audiences throughout North and South America, Europe, and Asia in solo recitals and chamber music concerts with her poetic lyricism and scintillating virtuosity. She has performed in such venues as Lincoln Center, the Kennedy Center, Jordan Hall, Berlin Philharmonie, Academia Nationale de Santa Cecilia in Rome, Warsaw National Philharmonic Hall, and Taipei National Hall. An active chamber musician, Ms. Lee is a founding member of the Triton Horn Trio with violinist Ani Kavafian and French hornist William Purvis and was an artist member of the Boston Chamber Music Society for three decades. Her recordings of Brahms, Shostakovich, Bartok, and Stravinsky with the members of BCMS were critically acclaimed by High Fidelity, CD Review, and Fanfare magazines, the reviews calling her sound "as warm as Rubinstein, yet virile as Toscanini." Ms. Lee has appeared frequently at numerous international chamber music festivals including Dubrovnik, Amsterdam, Groningen, Festicamara (Colombia), Great Woods, Seattle, OK Mozart, Mainly Mozart, Music from Angel Fire, Chamber Music Northwest, Rockport, Sebago-Long Lake, Bard, Norfolk, Mostly Music, Music Mountain, Monadnock, and Chestnut Hill Concerts. In addition to many years of performing regularly at Bargemusic in New York, she has been a guest artist with the Chamber Music Society of Lincoln Center, St. Paul Chamber Orchestra, and Speculum Musicae; has collaborated with the Tokyo, Muir, Cassatt, and Manhattan string quartets; and has premiered and recorded works by such composers as Gunther Schuller, Ned Rorem, Paul Lansky, Henri Lazarof, Michael Daugherty, and Ezra Laderman. In addition to her concert career, Ms. Lee maintains her commitment to give back to her community and help many worthy charities. At the invitation of the Prime Minister and the First Lady of Jamaica, for many years she has organized and performed in concerts in Kingston and Montego Bay to benefit the Jamaica Early Childhood Development Foundation. She also brought world-class musicians, both classical and jazz, to perform in fund-raising concerts for the Hastings Education Foundation in Westchester County, and launched an annual Gala Concert for the Community Health Clinic of Butler County, a free health clinic outside of Pittsburgh. Born in Seoul, Korea, Ms. Lee made her professional debut at the age of fourteen with the Korean National Orchestra after becoming the youngest grand prizewinner at the prestigious National Competition held by the President of Korea. In the same year, she came to the United States on a scholarship from The Juilliard School Pre-College, and subsequently won many further awards including First Prize at the Kosciuszko Foundation Chopin Competition, the Juilliard Concerto Competition, and the New England Conservatory Concerto Competition. Ms. Lee received her bachelor's and master's degrees from The Juilliard School and her artist diploma from the New England Conservatory, studying with Martin Canin and Russell Sherman. She has released compact discs on the Bridge, Etcetera, EDI, Northeastern, and BCMS labels, and is currently Music Director of the Sebago-Long Lake Music Festival in Maine.
© Copyright 2022 Essex Winter Series. Essex Winter Series is 501(c)3 non-profit organization that has provided quality arts presentations for the Connecticut River Valley and Shoreline communities since 1978. EIN#06-0991889.