Welcome to our 2022 Season!
February 20 – Vince Giordano & The Nighthawks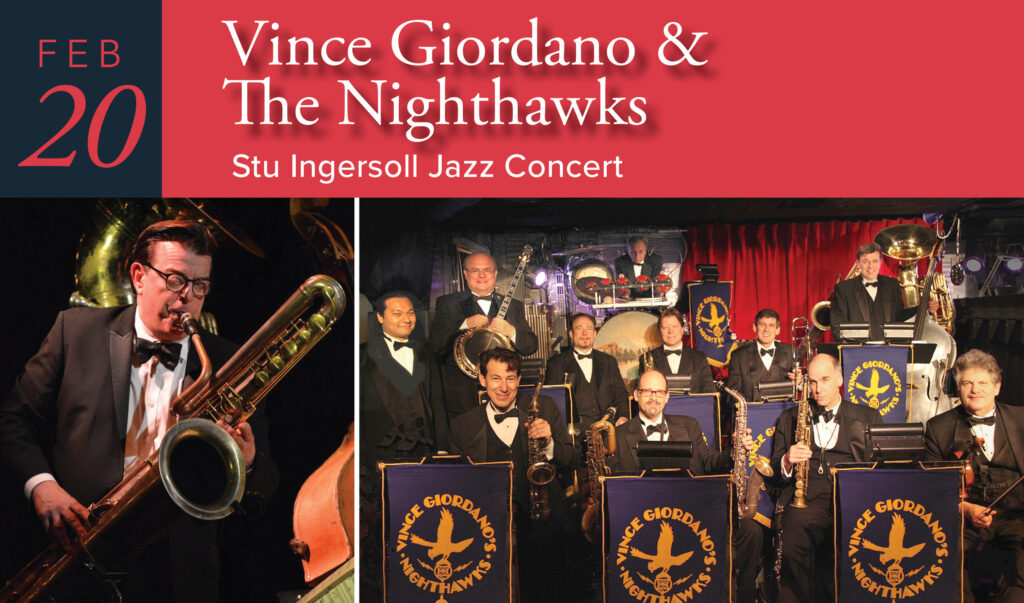 As a precautionary measure to protect all who come to our concerts, attendees must follow the CoVid Safety Policy we have established. Click here to view.
Concert Co-sponsored by The Clark Group and Tower Laboratories, Ltd.
Where and When:
John Winthrop Middle School
1 Winthrop Road, Deep River, CT
Click here to view in Google Maps
Sunday, February 20
Concert begins at 3:00 pm; doors open at 2:00 pm
Concert Program:
BENNY GOODMAN IN THE 1920s AND '30s
Selections to be announced from the stage.
Artist Biography:
Vince Giordano, string bass/tuba/bass sax/vocals

Grammy-winner, New York native and multi-instrumentalist Vince Giordano has played in New York nightclubs, appeared in films such as The Cotton Club, The Aviator, Finding Forrester, Revolutionary Road, Cafe Society, HBOs Boardwalk Empire and for concerts at the Town Hall, Jazz At Lincoln Center, the Newport Jazz Festival and the 92nd St Y for the past four decades. Recording projects include soundtracks for the award-winning Boardwalk Empire with vocalists like Elvis Costello, Patti Smith, St. Vincent, Regina Spektor, Neko Case, Leon Redbone, Liza Minnelli, Catherine Russell, Rufus Wainwright and David Johansen. Vince and his band have also recorded for Terry Zwigoff's Ghost World, Tamara Jenkins' The Savages, Robert DeNiro's The Good Shepherd, Sam Mendes' Away We Go, Michael Mann's film Public Enemies, and John Krokidas' debut feature, Kill Your Darlings, along with HBO's Grey Gardens and the miniseries Mildred Pierce. The Nighthawks are also seen and heard in the USA Network series Royal Pains and in the PBS series Michael Feinstein's American Songbook. The band has also worked on Todd Haynes' Academy Award nominated film Carol; the Emmy-winning Bessie bio-pic on HBO, and Cinemax's The Knick starring Clive Owen. The guys have also recorded music for Maggie Greenwald film called Sophie and the Rising Sun that debuted at the Sundance Film Festival.
More recent projects include Woody Allen's Café Society (2016) starring Jesse Eisenberg and Kristen Stewart; a Barry Levinson film for HBO called Wizard of Lies, starring Robert De Niro and Michelle Pfeiffer; a historical drama called The Promise, directed by Terry George, starring Christian Bale and Oscar Isaac and season one and two of the Emmy winning series, The Marvelous Mrs. Maisel. In 2019 the band recorded music for Warner Brothers' blockbuster film, The Joker. Vince also had a part singing in Martin Scorsese's film, The Irishman. In the fall of 2020, the band released a recording with Loudon Wainwright III.
Hudson West Productions feature documentary Vince Giordano – There's a Future in the Past is complete! We are SO grateful to all the supporters who gave, and gave again, to see this project through the filming, editing, music clearance and onto the festival circuit. The film is currently available on Apple TV. A very special thanks to the directors Dave Davidson and Amber Edwards who found us as a worthy subject!
In 2017 Vince Giordano and the Nighthawks provided musical accompaniment to several silent films at MoMA (The Museum of Modern Art) in NYC.
Giordano's passion for music from the 1920s and '30s – and the people that made it – began at age 5. He has amassed an amazing collection of over 60,000 band arrangements, 1920s and '30s films, 78 recordings and jazz-age memorabilia. Giordano sought out and studied with important survivors from the period; Whiteman's hot arranger Bill Challis and drummer Chauncey Morehouse, as well as bassist Joe Tarto among others. Giordano's passion, commitment to authenticity, and knowledge led him to create a sensational band of like-minded players, The Nighthawks. For over 40 years, Vince Giordano has single handedly kept alive a wonderful genre of American music that continues to spread the joy and pathos of an era that shaped our nation.
© Copyright 2021 Essex Winter Series. Essex Winter Series is 501(c)3 non-profit organization that has provided quality arts presentations for the Connecticut River Valley and Shoreline communities since 1978. EIN#06-0991889.