Welcome to our 2022 Season!
February 20 – Vince Giordano & The Nighthawks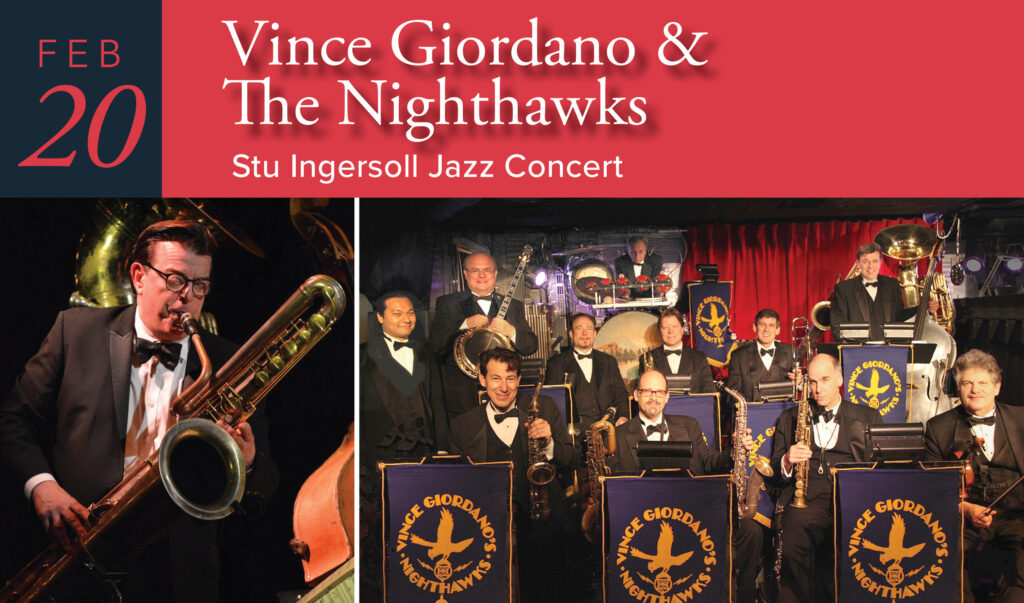 This concert took place on February 20, 2022. Thank you to all who attended!
Concert Co-sponsored by The Clark Group and Tower Laboratories, Ltd.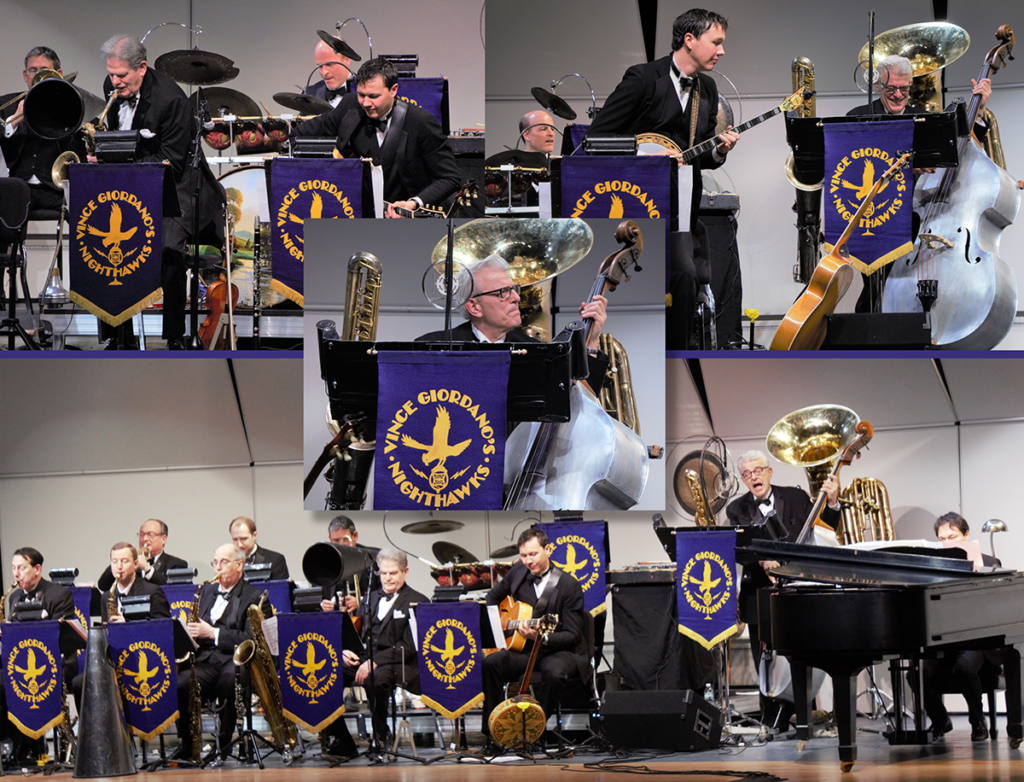 Where and When:
Valley Regional High School
256 Kelsey Hill Road Road, Deep River, CT
Click here to view in Google Maps
Sunday, February 20
Concert begins at 3:00 pm; doors open at 2:00 pm
Concert Program:
BENNY GOODMAN IN THE 1920s AND '30s
Selections to be announced from the stage.
Artist Biography:
Vince Giordano, string bass/tuba/bass sax/vocals

Grammy-winner, New York native and multi-instrumentalist Vince Giordano has played in New York nightclubs, appeared in films such as The Cotton Club, The Aviator, Finding Forrester, Revolutionary Road, Cafe Society, HBOs Boardwalk Empire and for concerts at the Town Hall, Jazz At Lincoln Center, the Newport Jazz Festival and the 92nd St Y.
Recording projects include music for films: Ghost World, The Savages, The Good Shepherd, Away We Go, Public Enemies, Carol, Bessie, The Knick, Sophie and the Rising Sun, Café Society, Wizard of Lies, The Promise, 2 seasons of The Marvelous Mrs. Maisel, Grey Gardens, Mildred Pierce, and The Joker, among others. Vince also sang in Scorsese's film, The Irishman. Most recent recording projects include music for upcoming films Don't Worry, Darlings, and Killers of the Flower Moon.
In 2017, Hudson West Productionscreated a documentary: Vince Giordano – There's a Future in the Past. In the fall of 2019, the Nighthawks released their latest recording with Loudon Wainwright III titled, I'd Rather Lead a Band.
Giordano's passion for music from the 1920s and '30s lead him to amass an amazing collection of over 60,000 band arrangements.
Giordano sought out and studied with important survivors from the period; Whiteman's hot arranger Bill Challis and drummer Chauncey Morehouse, as well as bassist Joe Tarto among others. Giordano's passion, commitment to authenticity, and knowledge led him to create a sensational band of like-minded players, the Nighthawks.
Vince Giordano and the Nighthawks perform every Monday and Tuesday evenings at NYC's Bond45 restaurant. Band members include:
Andy Stein: Violin
Joe Boga: Trumpet
Jon-Erik Kellso: Trumpet
Jim Fryer: Trombone
Will Anderson: Alto, Clarinet, Soprano Sax
Mark Lopeman: Tenor, Clarinet, Soprano Sax
Dan Levinson: Alto, Clarinet, Soprano Sax
Peter Yarin: Piano
Arnt Arntzen: Banjo, Guitar
Douglas Marriner: Drums
Vince Giordano: String Bass, Tuba, Bass Sax
© Copyright 2022 Essex Winter Series. Essex Winter Series is 501(c)3 non-profit organization that has provided quality arts presentations for the Connecticut River Valley and Shoreline communities since 1978. EIN#06-0991889.