Welcome to our 2022 Season!
March 20 – Resurgam Quartet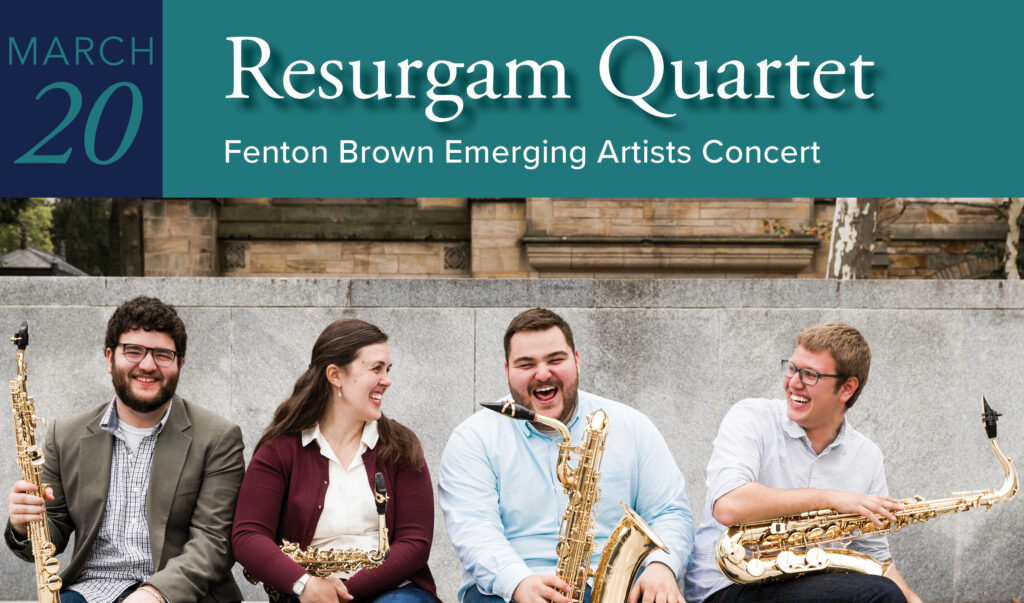 As a precautionary measure to protect all who come to our concerts, attendees must follow the CoVid Safety Policy we have established. Click here to view.
Concert Co-sponsored by Essex Savings Bank and Essex Financial Services
Where and When:
Valley Regional High School
256 Kelsey Hill Road, Deep River, CT
Click here to view in Google Maps
Sunday, March 20
Concert begins at 3:00 pm; doors open at 2:00 pm
Concert Program:
RESURGAM QUARTET
Harrison Kliewe, soprano saxophone
Colette Hall, alto saxophone
Sean Tanguay, tenor saxophone
Michael Raposo, baritone saxophone
Carmen Fantasy – Francois Borne (1840-1920), arr. Sean Tanguay
Oblivion/Libertango – Astor Piazzolla (1921-1992), arr. Sean Tanguay
A Schumann Bouquet – Robert Schuman (1810-1856), arr. William Bolcom
String Quartet No. 14 Death and the Maiden – Franz Schubert (1797-1828), arr. Sean Tanguay
Artist Biographies:
The Resurgam Quartet has been dedicated to engaging audiences through exhilarating performances of saxophone quartet repertoire since their formation in 2015. Based in Hartford, CT, its current members are Harrison Kliewe (soprano saxophone), Colette Hall (alto saxophone), Sean Tanguay (tenor saxophone), and Michael Raposo (baritone saxophone).
The 2019-2020 season brings exciting new ventures for Resurgam, including a concerto soloist performance with the Hartford Symphony Orchestra in June, curating a series of concerts featuring new music at WhiteBox Harlem, commissioning and premiering new works for saxophone quartet, collaborating with guest musicians, artists, and dancers, and presenting at the North American Saxophone Alliance (NASA) Biennial Conference.
The Quartet is committed to expanding the saxophone quartet repertoire and premiered their latest commission I Could Hold This; I Could Not by emerging composer Tanner Porter in January 2020. An advocate for new music, Resurgam was selected to perform at the 7th Annual Queens New Music Festival and has also performed on New York University's New Music Ensemble series and the Hartford New Music Festival.
Resurgam enjoys an active schedule comprised of solo recitals, concerto appearances, educational engagements, and conference presentations. Recent engagements include the launch of their WhiteBox Harlem concert series in January 2020, a recital at the Connecticut Old State House in September 2019, the premiere of their commission Breaking Point at the 2018 NASA Biennial Conference, and a featured soloist performance of William Bolcom's Concerto Grosso with the Tri-County Band in Marion, MA. Education is an important part of Resurgam's mission, and the group has presented masterclasses and educational concerts in Massachusetts, Connecticut, Rhode Island, New York, and Indiana.
The Resurgam Quartet is a two-time semi-finalist of the International Fischoff Chamber Music Competition and won the Paranov Concerto Competition at the Hartt School with their performance of William Bolcom's Concerto Grosso.
For recordings, full performance schedule, and more information please visit www.resurgamquartet.com.
Harrison Kliewe, soprano saxophone
Harrison Kliewe is a highly sought-after multiple woodwind player, chamber musician, and teacher based in Hartford Connecticut. He regularly performs throughout Connecticut in pit orchestras including the Goodspeed Opera House, Playhouse on Park, The Norma Terris Theater, and the Ivoryton Playhouse. He recently had the privilege of serving as the principal oboist with the Ballet Theater Company of West Hartford for the premiere of Speranza, a new ballet by Mark Mazzarella and Sean Pallatroni.
Harrison graduated from the Hartt School in 2017 with a BMus in Saxophone Performance. He is an adjunct faculty member at Hartt where he teaches woodwind methods, as well as the woodwind instructor at the Rectory School in Pomfret, CT.
While at Hartt, Harrison won the 2016 Paranov Concerto Competition as a soloist and the 2015 competition with the Resurgam Quartet. He has played with several ensembles including the New Haven Symphony, Waterbury Symphony, the Hartford Gay Men's Chorus, the Farmington Valley Symphony, and the College Light Opera Company of Falmouth, Massachusetts.
A native of Stamford, Connecticut, Harrison resides in the city of Hartford.
Colette Hall, alto saxophone
Colette Hall graduated with her Doctorate in Saxophone Performance from the University of Hartford's Hartt School in Hartford, CT in May 2015. She also earned a Master's Degree in Performance from Duquesne University in Pittsburgh, PA, and graduated summa cum laude with a Bachelor's Degree in Music Education from the Crane School of Music at SUNY Potsdam in Potsdam, NY. In the spring of 2011, Colette served as Adjunct Professor of Applied Saxophone at Duquesne University and previously served as the Hartt Saxophone Studio Teaching Assistant. In addition to performing, Colette is also the Artistic Operations Manager for the Hartford Symphony and teaches private saxophone lessons in the Greater Hartford region. A native of the Hudson Valley area in New York, Colette currently resides in Hartford.
Sean Tanguay, tenor saxophone

Sean Tanguay is an emerging classical saxophonist, recording engineer, and educator in the New Haven and Hartford areas. He currently performs with the Resurgam Quartet as their tenor saxophonist. He also works at Yale University as a recording engineer as well as being an Visiting Lecturer in Music at Trinity College.
With the Resurgam Quartet, Sean has performed in many different venues across the Northeast such as high schools in Massachusetts, Rhode Island, and New York. He has also played in such venues as the Wadsworth Atheneum, and various retirement homes. He had the honor of playing William Bolcom's Concerto Grosso for Saxophone Quartet and Wind Ensemble as a winner of the Hartt School's Paranov Concerto Competition. He has also advanced to the semifinal round of the Fischoff National Chamber Music Competition in 2016 and 2017. 
As a performer, Sean has performed with groups such as the Hartt Wind Ensemble, the Foot in the Door ensemble, Boston University Tanglewood Institute's Young Artists Orchestra, and the Nutmeg Symphony Wind Ensemble.
As a recording Engineer, Sean has worked with groups such as the Emerson String Quartet, the Miro Quartet, the Brentano Quartet, David Shifrin, Frank Morelli, and Dashon Burton. He is the recording engineer for the Norfolk Chamber Music Festival where he has recorded established professional artists as well as emerging musicians and composers. He has been the recording engineer at the Boston University Tanglewood Institute where he worked with some of the most talented high school musicians from around the world, as well as working with the Tanglewood recording engineers.
Michael Raposo, baritone saxophone
Michael Raposo is a multiple-woodwind instrumentalist and educator.He holds a Bachelor's Degree in Music Education from University of Hartford's Hartt School of Music, and a Master's Degree in Multiple Woodwind performance from New York University. He is an adjunct faculty member at NYU where he teaches undergraduate lessons and chamber ensembles. Raposo regularly performs in a variety of settings, including as a concert saxophonist, orchestral clarinetist, and several jazz, salsa, and theater pit orchestras across the Northeast. He is a sub for the Ed Palermo Big Band, and had the privilege of playing the low reed chair for Aretha Franklin's Birthday celebration at the Mohegan Sun Arena. Raposo has been featured as a concerto soloist with the Hartt Wind Ensemble (February 2016) and the Tri-County Symphonic Band (June 2016, March 2018).
© Copyright 2021 Essex Winter Series. Essex Winter Series is 501(c)3 non-profit organization that has provided quality arts presentations for the Connecticut River Valley and Shoreline communities since 1978. EIN#06-0991889.