Welcome to our 2023 Season!
February 26 – Jeff Barnhart & His Hot Jazz Collective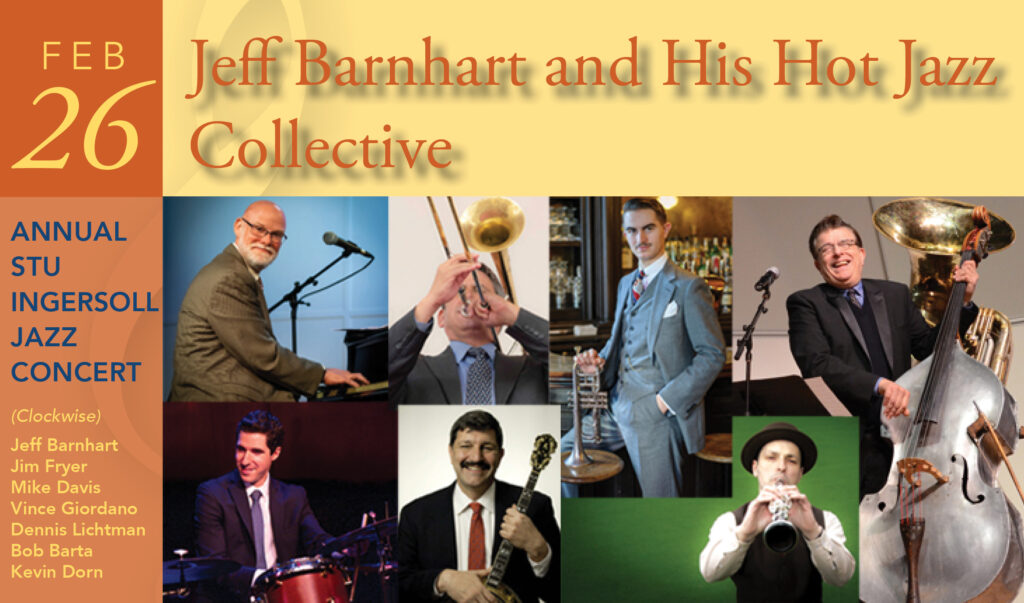 Concert Co-sponsored by The Clark Group and Tower Laboratories, Ltd.
Where and When:
This concert took place on February 26, 2023.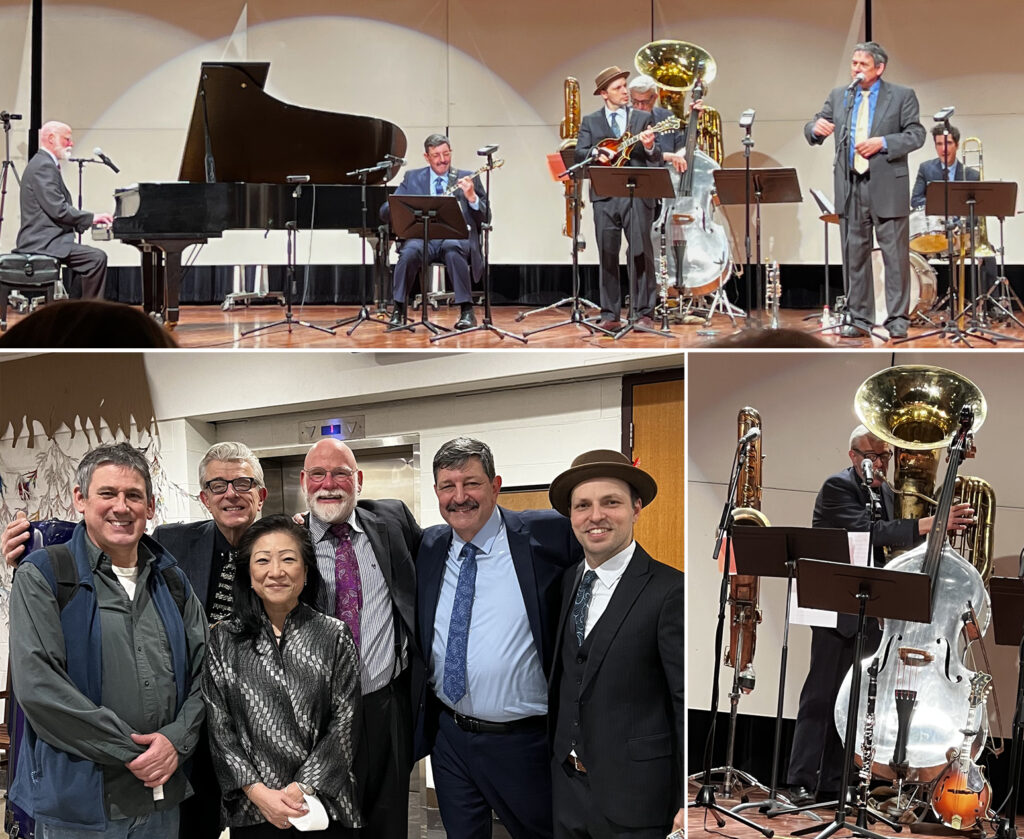 JOHN WINTHROP MIDDLE SCHOOL
1 Winthrop Road, Deep River, CT
Click here to view in Google maps.
Sunday, February 26
Concert begins at 3:00 pm; outer doors open at 2:00 pm; auditorium doors open at 2:30 pm.
Concert Program:
EARLY JAZZ OF THE 1920s to 1940s performed by:
Jeff Barnhart (piano, vocals)
Mike Davis (trumpet, vocals)
Dennis Lichtman (clarinet, mandolin, violin)
Jim Fryer (trombone)
Vince Giordano (bass, tuba, bass sax, vocals)
Bob Barta (banjo/guitar, vocals)
Kevin Dorn (drums)
Artistic Advisor Jeff Barnhart has once again collected some of his favorite musicians for a bespoke Essex Winter Series-only appearance. These internationally revered musicians have collectively graced concert and television stages as well as major films. Each has dedicated his musical life to the proliferation of Hot Jazz from the 1920s-1940s. Expect fireworks to fly! This spontaneous, unrehearsed ensemble will be discovering what's going on at the exact same moment you do: you'll be amazed at the cohesion and excitement these virtuosi who have never appeared in this incarnation will create for your eyes and ears.
In keeping with the spontaneity of the music and the performers, selections will be announced from the stage.
Artist Biography:
Jeff Barnhart, piano

"The premier stride pianist in the USA." – SIRIUS/XM Radio
Jeff Barnhart is an internationally renowned pianist, vocalist, arranger, bandleader, recording artist, ASCAP composer, educator and entertainer. Jeff began his professional career at age 14 playing and entertaining four nights a week in a restaurant in his home state of Connecticut. Here he began to learn the classic swing, jazz and ragtime repertoire of the early 20th century. The 21st century has found Jeff constantly appearing as a soloist and band pianist at parties, festivals, clubs and cruises throughout the world. In addition, he has led two bands in the UK: the Fryer-Barnhart International Jazz Band, which concentrates on hot music of the 1920s, and Jeff Barnhart's British Band, which performs small group swing of the 1930s. Due to his versatility, vast repertoire and vibrant energy, Jeff is in constant demand as a participant in international jazz and music events as either a soloist or as pianist in All-Star Jazz ensembles. In addition to his widely acclaimed solo and band appearances, Jeff enjoys great success performing with smaller groups, most notably Ivory&Gold®, a group he co-leads with his talented wife, flutist/vocalist Anne Barnhart. Ivory&Gold® has become a mainstay at many jazz and ragtime festivals throughout the US, the UK and Europe.
Jeff enjoys playing dual piano and has done so with such jazz luminaries as Ralph Sutton, Neville Dickie, Louis Mazetier, John Sheridan, Brian Holland and Carl Sonny Leyland. In addition to his own label, Jazz Alive Records, Jeff plays piano and sings on the international labels GHB, Summit-World Jazz Records, Music Minus One, and the two largest jazz labels in the UK, Lake Records and P.E.K. Sound. In 2006, Jeff joined the roster of artists featured on the Arbors Records label, with four recordings currently available: the most recent featuring jazz legends Bob Wilber and Bucky Pizzarelli. Jeff has recorded as both pianist and vocalist on more than 120 full-length albums. He averages 40 weeks a year on the road, bringing his music to all corners of the globe. Music composer, performer and reviewer Jack Rummel, recently summed up the reason for Jeff's popularity, averring, "When it comes to talent, speed, versatility, creativity, mastery of multiple genres and just plain entertaining zaniness, Jeff Barnhart stands alone."
In addition to his active performance and recording schedule, Jeff is a dedicated and enthusiastic educator. His double BAs in Music and English, combined with his MA in Education, make Jeff a formidable and entertaining force in clinic, master class and inspirational speaking forums.
Mike Davis, trumpet and vocals

"Eloquent trumpet prodigy"  – The Wall Street Journal
Mike Davis studied with Laurie Frink from 2009-2013 while attending the Manhattan School of Music. He now appears regularly around New York City as the leader of the New Wonders and with Dandy Wellington and his band, Emily Asher's Garden Party, Glenn Crytzer, Terry Waldo, Baby Soda, Dan Levinson, and many other traditional jazz and swing bands.
Dennis Lichtman, clarinet, mandolin, violin
Dennis Lichtman is a multi-instrumentalist who is equally at home on clarinet, mandolin, and fiddle. He is deeply entrenched in the early years of jazz and its connections to other American roots genres, from ragtime to bluegrass to western swing (and most importantly, the meeting-points in between). His long-running weekly Tuesday night jam session at Mona's in New York City has been called "ground zero for an emerging late-night scene of young swing and traditional jazz players" by The Wall Street Journal. In October 2021 he and country blues phenom Jerron "Blind Boy" Paxton released a duo album on which they each play five instruments and sing. Lichtman's most recent clarinet album, Just Cross the River, features nine original compositions, two of which can be heard in the HBO miniseries The Plot Against America.
Dennis has performed and recorded as a member of The Lovestruck Balladeers, Ghost Train Orchestra, Pokey LaFarge Band, Nation Beat, Jim Kweskin Band, duo with Jerron "Blind Boy" Paxton, and many more in addition to his own projects, The Brain Cloud and Mona's Hot Four. He is a Selmer Paris Clarinet Artist. Please visit www.dennislichtman.com for more information.
Jim Fryer, trombone
Jim Fryer began his professional career playing traditional jazz trombone in the Boston area during the 1970s. He has played gigs in many disparate genres, including Broadway, Salsa, Big Band, Classical, and many others. He has performed at Festivals the world over, including the Newport Jazz Festival, the Edinburgh Jazz Festival, the Wilmington (NC) Jazz Festival, and the Turner Classic Film Festival in Hollywood. A longstanding member of Vince Giordano's Nighthawks, Fryer recorded on the grammy-winning soundtrack compilation for the HBO series Boardwalk Empire. He is a member of Terry Waldo's Gotham City Jazz Band, with frequent appearances in New York City and elsewhere, including the Bern (Switzerland) Jazz Festival. Other prominent New York ensembles that he performs with include the James Langton All Star Big Band, Dan Levinson's Swing Wing, the Louis Armstrong Eternity Band, and the Baby Soda Jazz Band.
During his many years of residency in Connecticut, Mr. Fryer was a member of the Hartford Jazz Orchestra, the Hot Cat Jazz Band, and the Galvanized Jazz Band. He taught at the Neighborhood Music School in New Haven, Choate Rosemary Hall, and Wesleyan University.
Mr. Fryer is active in a variety of educational settings, continuing 35 years of school performances and workshops (currently on the roster of CT Arts For Learning), recent work at PS228 in Queens via the Louis Armstrong House Museum, and the Hot Jazz Camp NYC.
Fryer is a resident of the Inwood neighborhood in Northern Manhattan.
Vince Giordano, bass, tuba, bass sax, vocals
Grammy-winner, New York native and multi-instrumentalist Vince Giordano has played in New York nightclubs, appeared in films such as The Cotton Club, The Aviator, Finding Forrester, Revolutionary Road, Café Society, HBOs Boardwalk Empire and for concerts at the Town Hall, Jazz At Lincoln Center, the Newport Jazz Festival and the 92nd St Y.
Recording projects include music for films: Ghost World, The Savages, The Good Shepherd, Away We Go, Public Enemies, Carol, Bessie, The Knick, Sophie and the Rising Sun, Café Society, Wizard of Lies, The Promise, 2 seasons of The Marvelous Mrs. Maisel, Grey Gardens, Mildred Pierce, and The Joker, among others. Vince also sang in Scorsese's film, The Irishman. Most recent recording projects include music for upcoming films Don't Worry, Darlings, and Killers of the Flower Moon.
In 2017, Hudson West Productionscreated a documentary: Vince Giordano – There's a Future in the Past. In the fall of 2019, the Nighthawks released their latest recording with Loudon Wainwright III titled, I'd Rather Lead a Band.
Giordano's passion for music from the 1920s and '30s lead him to amass an amazing collection of over 60,000 band arrangements.
Giordano sought out and studied with important survivors from the period; Whiteman's hot arranger Bill Challis and drummer Chauncey Morehouse, as well as bassist Joe Tarto among others. Giordano's passion, commitment to authenticity, and knowledge led him to create a sensational band of like-minded players, the Nighthawks.
Vince Giordano performs every Monday and Tuesday evenings at NYC's Bond45 restaurant with his band, The Nighthawks.
Bob Barta, banjo/guitar, vocals
Dubbed "a Long Island treasure" by Dan's Papers, Bob Barta has recorded and worked with a wide range of performers from Roy Smeck to Alynda Segarra over a 40+ year musical career. He's best known as a banjoist and vocalist in traditional jazz circles, while simultaneously embracing a varied repertoire from diverse styles. Bob has performed at many famous venues nationally (including two shows at Carnegie Hall) and appears as a performer/presenter at music festivals – most frequently with the Wolverine Jazz Band of Boston. A professor of business & IT subjects at Suffolk County Community College, Bob is also past president of the non-profit Vail-Leavitt Music Hall (a national and state historic site) in downtown Riverhead, NY.
Kevin Dorn, drums
Kevin Dorn has been one of the busiest drummers in traditional jazz for many years and his deep dedication to the music has never waned for an instant, ever since as a teenager he first heard a recording of Gene Krupa. Kevin is influenced by classic swinging drummers like Cliff Leeman, George Wettling, Morey Feld, Buzzy Drootin, Dave Tough and Sam Woodyard; drummers who played for the benefit of the band and who were masters of playing good solid time. Kevin's goal is to provide swinging and inspirational accompaniment for his fellow musicians.
To learn about this music, Kevin went to the source and did what those before him had done: he apprenticed under older master musicians. Kevin sought out players like Jake Hanna, Tony Denicola and Chuck Riggs, and learned everything he could from them. Kevin cherishes the time he spent with these gentlemen and their influence on him was tremendous. They taught him not only the intricacies of jazz drumming, but also to develop his own sound and they are the reason for his highly individual and authentic approach to the music. Although he has a deep knowledge of jazz drumming history and is known for playing in an older style, Kevin's playing is completely in the moment and he has tried to develop his own voice within the idiom.
Kevin's commitment and intensity, as well as his unique approach, have brought him steady work with such stellar musicians as Ken Peplowski, Rossano Sportiello, Catherine Russell, Ed Polcer, Allan Vache, Bob Wilber, Dan Barrett, Johnny Varro, Dick Hyman, Randy Reinhart, Warren Vache, Jeff Barnhart, Dan Levinson, Banu Gibson, Mark Shane, John Gill, Randy Sandke, Jon-Erik Kellso, Vince Giordano, Eddy Davis and Tom Artin. For two years, Kevin was the drummer for The Jim Cullum Jazz Band, appearing on their weekly public radio show, Riverwalk: Live From The Landing. These days, Kevin performs regularly with many bands, including The Yerba Buena Stompers, The Dimestore Romeos, The Brain Cloud, The Baby Soda Jazz Band and Papa Vega's Dream Shadows. Kevin is also the drummer for Woody Allen's New Orleans Band, performing every Monday night at the Cafe Carlyle in New York City.
Kevin has played at numerous jazz festivals and jazz parties, including the JVC Jazz Festival, Jazz at Chautauqua, the Atlanta Jazz Party, the North Carolina Jazz Festival, the Colorado Springs Jazz Party, JazzFest At Sea, the Bix Beiderbecke Memorial Jazz Festival, the Sacramento Jazz Jubilee, the Los Angeles Sweet and Hot Festival, the San Diego Jazz Festival, the Arizona Classic Jazz Festival, the Orange County Jazz Festival, the Nairn Jazz Festival in Scotland and the Jeju Swing Festival in South Korea. Kevin has been fortunate to have performed throughout North and South America, Europe, and Asia, and at venues such as Carnegie Hall, The Kennedy Center, The Rainbow Room, Lincoln Center, Birdland, Dizzy's Club Coca-Cola, Symphony Space, The 92nd Street Y, Mezzrow, Fat Cat, The Iridium, and Joe's pub.
Kevin has recorded music for movies and television, most recently for the HBO miniseries The Plot Against America starring Winona Ryder and John Turturro, in which Kevin also appears on screen.
Kevin has been featured on the cover of such traditional jazz publications as The Mississippi Rag and The American Rag, and was profiled in Lew Shaw's book, Jazz Beat: Notes on Classic Jazz. Always willing to share his knowledge, Kevin has taught drumming at the United Nations International School, The Manhattan School of Music, the Stanford Summer Jazz Workshop, and the New York Hot Jazz Camp, as well as privately.
Kevin is an endorser of Ludwig Drums.
© Copyright 2022 Essex Winter Series. Essex Winter Series is 501(c)3 non-profit organization that has provided quality arts presentations for the Connecticut River Valley and Shoreline communities since 1978. EIN#06-0991889.