Welcome to our 2023 Season!
March 12 – Project: Music Heals Us String Trio with Mihae Lee, piano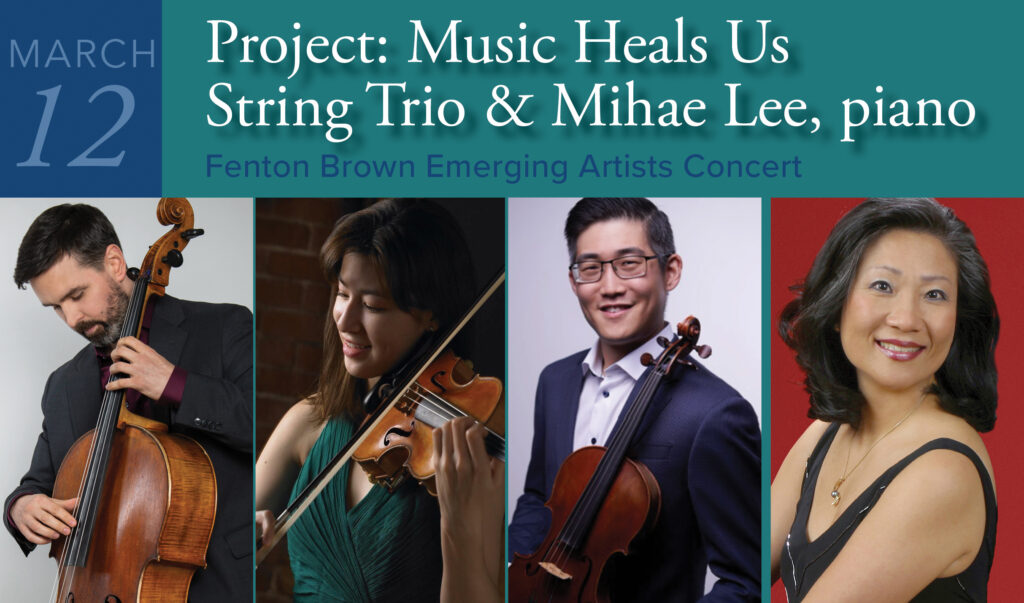 As a precautionary measure to protect all who come to our concerts, attendees must follow the CoVid Safety Policy we have established. Click here to view.
Concert Sponsors:
BrandTech Scientific, Inc, Artist Sponsor and Masonicare at Chester Village, Piano Sponsor
Where and When:
This concert took place on March 12, 2023.

JOHN WINTHROP MIDDLE SCHOOL
1 Winthrop Road, Deep River, CT
Click here to view in Google Maps
Sunday, March 12
Concert begins at 3:00 pm; outer doors open at 2:00 pm; auditorium doors open at 2:30 pm.
Concert Program:
PROJECT: MUSIC HEALS US STRING TRIO WITH MIHAE LEE, PIANO
Stephanie Zyzak, violin
Brian Hong, violin and viola
Andrew Janss, cello
Mihae Lee, piano
String Trio in B-flat Major, D. 471 – Franz Schubert (1797-1828)
Serenade in C Major for String Trio, Op. 10 – Ernő Dohnányi (1877-1960)
Piano Quartet in E-Flat Major, Op. 87 – Antonín Dvořák (1841-1904)
with Mihae Lee, piano

Artist Biographies:
PROJECT: MUSIC HEALS US is a non-profit organization which exists to provide encouragement, education and healing through bringing high-quality live music performances and interactive programming to marginalized communities with limited ability to access it themselves – with a focus on elderly, disabled, rehabilitating incarcerated, and homeless populations. Since its founding in 2014, PROJECT: MUSIC HEALS US has presented over 2,000 free concerts and workshops in hospitals, nursing homes, hospice centers, retirement homes, food pantries, centers for individuals with disabilities, correctional facilities, homeless shelters and refugee centers.
Stephanie Zyzak, violin

Praised for her sensitive musicianship and heartfelt playing, violinist Stephanie Zyzak is quickly gaining a reputation as one of the most soulful and profound musicians of her generation.
At the age of seven, Stephanie made her first solo appearance with the Starling Chamber Orchestra at the Aspen Music School and became the youngest recipient ever to be awarded the Aspen Music School New Horizon Fellowship. The following year, she performed in Germany as an invited guest of the Internationale Kunst – Akademie Liechtenstein (IKAL). Since making her debut in 2004 with the Louisville Orchestra, Stephanie has performed as soloist throughout Germany, Russia, Austria, Sweden, Spain, Italy, France, and with orchestras including the Cincinnati Symphony Orchestra, Dayton Philharmonic, Southeast Missouri Symphony, and the UC Davis Symphony Orchestra. Recent and upcoming season highlights include performances at Caramoor, Carnegie Hall, the Dame Myra Hess Memorial Concert Series, Philadelphia Chamber Music Society, and the Phillips Collection, among others.
A deeply passionate chamber musician, Stephanie has had the privilege of collaborating with renowned musicians including Jonathan Biss, Kim Kashkashian, Ida Kavafian, Alice Neary, Danny Phillips, Marcy Rosen, and Mitsuko Uchida. She has also performed at the Marlboro Music Festival, Ravinia's Steans Music Institute, Caramoor, the Four Seasons Chamber Music Festival, as well as on tour with Musicians From Marlboro.
Born in South Carolina, Stephanie is a graduate of New England Conservatory where she studied with Miriam Fried. Currently, she is studying at CUNY The Graduate Center with Mark Steinberg. She is also a founding member of ensemble132, a roster-based chamber music collective.
Stephanie performs on a 1778 Joseph and Antonio Gagliano violin, generously on loan from Ravinia's Steans Music Institute, and a bow by François-Nicolas Voirin.
Brian Hong, violin and viola

Korean-American violinist and violist Brian Hong is forging a career as  an educator, soloist and chamber musician. Known for his commanding stage presence and thoughtful ear, Brian has performed concertos with such orchestras as the Juilliard Orchestra, Fairfax Symphony, American Youth Philharmonic, Chesapeake Orchestra, U.S. Army Orchestra, National Philharmonic, and the Springfield Symphony. A dedicated chamber musician, Brian's festival credits include Marlboro, Yellow Barn, Bowdoin International Music Festival, Music Academy of the West, the Taos School of Music, Kneisel Hall, and the Perlman Music Program.
Brian is a graduate of Juilliard's Artist Diploma program under the guidance of Laurie Smukler and Catherine Cho. As a Fellow of Carnegie Hall's Ensemble Connect, he performed and taught in a variety of venues in New York City and abroad, as well as maintaining a two-year teaching-artist partnership with Celia Cruz High School for Music in the Bronx. Brian also holds a master's degree from The Juilliard School, where he was awarded a prestigious Kovner Fellowship. Brian earned his bachelor's degree under Donald Weilerstein from the New England Conservatory of Music, where he was a member of three different honors ensembles and studied both classic and contemporary quartet repertoire with mentors including Laurence Lesser, Kim Kashkashian, Donald Weilerstein, and Lucy Chapman.
Brian is gaining recognition for his thoughtful and empathetic approach to teaching, joining the esteemed faculty at Bard College Conservatory of Music as a violist in Fall 2022. As a guest artist, he has taught private lessons, public masterclasses, and chamber coachings on both violin and viola at George Mason University's Reva and Sid Dewberry Family School of Music, Missouri State University, and The Juilliard School. He has also taught live virtual masterclasses for the Joven Camerata de El Salvador as well as the Edward Said National Conservatory of Palestine through the Project: Music Heals Us – Novel Voices Distance Learning Program. Brian's mission as a teacher is to provide thoughtful and well-rounded instruction to students that maximizes their musical inspiration while illuminating the technical steps needed to achieve repeatable results. Brian believes in bringing the unique qualities of each student to life and in the right of every student to have a high-quality musical education regardless of socio-economic status.
Brian is a Co-Artistic Director of NEXUS Chamber Music Chicago in Illinois, an artist driven collective of musicians whose mission is to make classical music culturally relevant through live concerts and multimedia content. He is also the Program Manager and A/V editor for Project: Music Heals Us, currently recording and video-editing performance and lecture videos of the complete string quartets of Ludwig van Beethoven for their course entitled "Music for the Future." In his spare time, Brian can be found brewing espresso or single origin pour-overs at his home coffee bar. He plays on a 1991 viola by Michael Darnton, graciously on loan to him through the generous support of Darnton & Hersh Fine Violins and Guarneri Hall NFP.

Andrew Janss, cello

Hailed by the New York Times for his "muscularity and shimmering lyricism," "insightful musicianship," and "sumptuous elegance," cellist Andrew Janss' performances have been enjoyed across five continents in venues including Carnegie Hall, The Kennedy Center, The Sydney Opera House, and the Louvre.
Andrew has collaborated in concert and recording with a long list of iconic classical artists, including Itzhak Perlman, Pinchas Zukerman, Lynn Harrell, Leon Fleisher, and Richard Goode, as well as chart-topping performers such as Paul McCartney, Bruce Springsteen, Lana Del Rey, Mary J. Blige, Florence + the Machine, Erykah Badu, and The Roots.
Beyond his performance career, Andrew is the Executive Director of Project: Music Heals Us, a non-profit organization which aims to provide comfort, hope, and healing to a wide range of people who lack access to live arts programming. For his work developing and implementing a nationwide series of live virtual bedside concerts for rehabilitating COVID-19 patients and their caregivers, Andrew was nominated for a 2020-21 Emerson Collective Fellowship by his childhood (and current) idol Yo-Yo Ma.
Early in his musical career, Andrew was the founding cellist of the Escher Quartet, with whom he was in residence at the Chamber Music Society of Lincoln Center as part of Chamber Music Society Two from 2007-10. From there, he went on to be a cellist at the Marlboro Music Festival from 2010-12. He has served as Guest Principal Cellist of the St. Paul Chamber Orchestra, and has toured extensively with the Mark Morris Dance Group throughout the U.S., China, Italy, and Australia.
Andrew also tours and records for the groundbreaking cello rock band Break of Reality both in the United States and as cultural ambassadors for the U.S. Department of State. Recent tours through American Music Abroad have taken the band to Eastern and Central Asia, Haiti, and Brazil, collaborating with local musicians and composers in each country they visit.
Mihae Lee, piano
Praised by The Boston Globe as "simply dazzling," Artistic Director and pianist Mihae Lee has been captivating audiences throughout North and South America, Europe, and Asia in solo recitals and chamber music concerts with her poetic lyricism and scintillating virtuosity. She has performed in such venues as Lincoln Center, the Kennedy Center, Jordan Hall, Berlin Philharmonie, Academia Nationale de Santa Cecilia in Rome, Warsaw National Philharmonic Hall, and Taipei National Hall. An active chamber musician, Mihae is a founding member of the Triton Horn Trio with violinist Ani Kavafian and French hornist William Purvis and was an artist member of the Boston Chamber Music Society for three decades. Her recordings of Brahms, Shostakovich, Bartok, and Stravinsky with the members of BCMS were critically acclaimed by High Fidelity, CD Review, and Fanfare magazines, the reviews calling her sound "as warm as Rubinstein, yet virile as Toscanini." Mihae has appeared frequently at numerous international chamber music festivals including Dubrovnik, Amsterdam, Groningen, Festicamara (Colombia), Great Woods, Seattle, OK Mozart, Mainly Mozart, Music from Angel Fire, Chamber Music Northwest, Rockport, Sebago-Long Lake, Bard, Norfolk, Mostly Music, Music Mountain, Monadnock, and Chestnut Hill Concerts. In addition to many years of performing regularly at Bargemusic in New York, she has been a guest artist with the Chamber Music Society of Lincoln Center, St. Paul Chamber Orchestra, and Speculum Musicae; has collaborated with the Tokyo, Muir, Cassatt, and Manhattan string quartets; and has premiered and recorded works by such composers as Gunther Schuller, Ned Rorem, Paul Lansky, Henri Lazarof, Michael Daugherty, and Ezra Laderman.
In addition to her concert career, Mihae maintains her commitment to give back to her community and help many worthy charities. At the invitation of the Prime Minister and the First Lady of Jamaica, for many years she has organized and performed in concerts in Kingston and Montego Bay to benefit the Jamaica Early Childhood Development Foundation. She also brought world-class musicians, both classical and jazz, to perform in fund-raising concerts for the Hastings Education Foundation in Westchester County, and launched an annual Gala Concert for the Community Health Clinic of Butler County, a free health clinic outside of Pittsburgh.
Born in Seoul, Korea, Mihae made her professional debut at the age of fourteen with the Korean National Orchestra after becoming the youngest grand prizewinner at the prestigious National Competition held by the President of Korea. In the same year, she came to the United States on a scholarship from The Juilliard School Pre-College, and subsequently won many further awards including First Prize at the Kosciuszko Foundation Chopin Competition, the Juilliard Concerto Competition, and the New England Conservatory Concerto Competition. Mihae received her bachelor's and master's degrees from The Juilliard School and her artist diploma from the New England Conservatory, studying with Martin Canin and Russell Sherman. She has released compact discs on the Bridge, Etcetera, EDI, Northeastern, and BCMS labels, and is currently Music Director of the Sebago-Long Lake Music Festival in Maine.
© Copyright 2022 Essex Winter Series. Essex Winter Series is 501(c)3 non-profit organization that has provided quality arts presentations for the Connecticut River Valley and Shoreline communities since 1978. EIN#06-0991889.