Welcome to Essex Winter Series' 2019 Season!
We are delighted to announce our 2019 season! As you have come to expect, Artistic Director Mihae Lee has designed programs that are remarkable for their quality and variety.
Season Subscriptions (one ticket to each of the 4 concerts) $140
Flex Passes (4 tickets to be used in any combination) $150
Single Tickets – $40
Student Tickets (through college) – $5
All ticket prices include handling fees.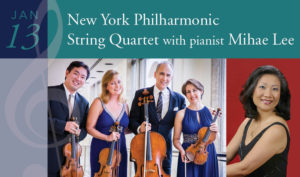 The New York Philharmonic String Quartet comprises four Principal musicians from the Orchestra: Concertmaster Frank Huang (The Charles E. Culpeper Chair); Principal Associate Concertmaster Sheryl Staples (The Elizabeth G. Beinecke Chair); Principal Viola Cynthia Phelps (The Mr. and Mrs. Frederick P. Rose Chair); and Principal Cello Carter Brey (The Fan Fox and Leslie R. Samuels Chair). They will be joined by EWS Artistic Director and pianist Mihae Lee for a program of Haydn, Dvorak, and Schumann. Full description HERE.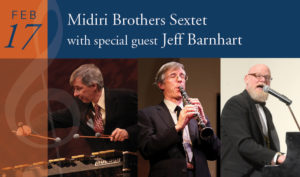 The phenomenal Midiri Brothers bring their swinging sextet (including our jazz advisor Jeff Barnhart) to EWS in a concert featuring the music of reeds giants Benny Goodman, Jimmy Noone, Artie Shaw, Sidney Bechet and more!  Expect to hear great selections such as Star Dust, Begin the Beguine, Avalon, Moonglow, Stompin' at the Savoy, and many surprises in the most talked about jazz program of the year! Full description HERE.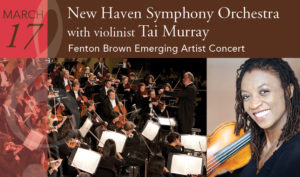 An inspiring talent with a silky and sweet tone from even the highest registers of her instrument, impeccable intonation, dexterity, subtlety yet always vigorous and dramatic, the well-schooled and hugely musical Tai Murray has become an essential personality in today's classical musical world. Ms. Murray performs with the New Haven Symphony Orchestra under the direction of William Boughton in his final season with NHSO. Full description HERE.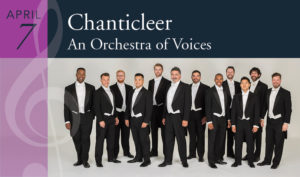 Chanticleer, the Grammy-Award winning all-male chorus, is one of the world's most renowned vocal ensembles, and returns to our series by popular demand. They are known as "an orchestra of voices" for the seamless blend of its twelve male voices ranging from countertenor to bass and its original interpretations of vocal literature, from Renaissance to jazz, and from gospel to venturesome new music. Full description HERE.
Our Venues:
Valley Regional High School
Kelsey Hill Road
Deep River, CT 06417
Click here to view in Google Maps
John Winthrop Middle School
1 John Winthrop Jr High School Drive
Deep River, CT 06417
Click here to view in Google Maps
Old Saybrook High School
1111 Boston Post Road
Old Saybrook, CT 06475
Click here to view in Google Maps
© Copyright 2017 Essex Winter Series. Essex Winter Series is 501(c)3 non-profit organization that has provided quality arts presentations for the Connecticut River Valley and Shoreline communities since 1978. EIN#06-0991889.