Welcome to our 2024 Season!
Fenton Brown Emerging Artists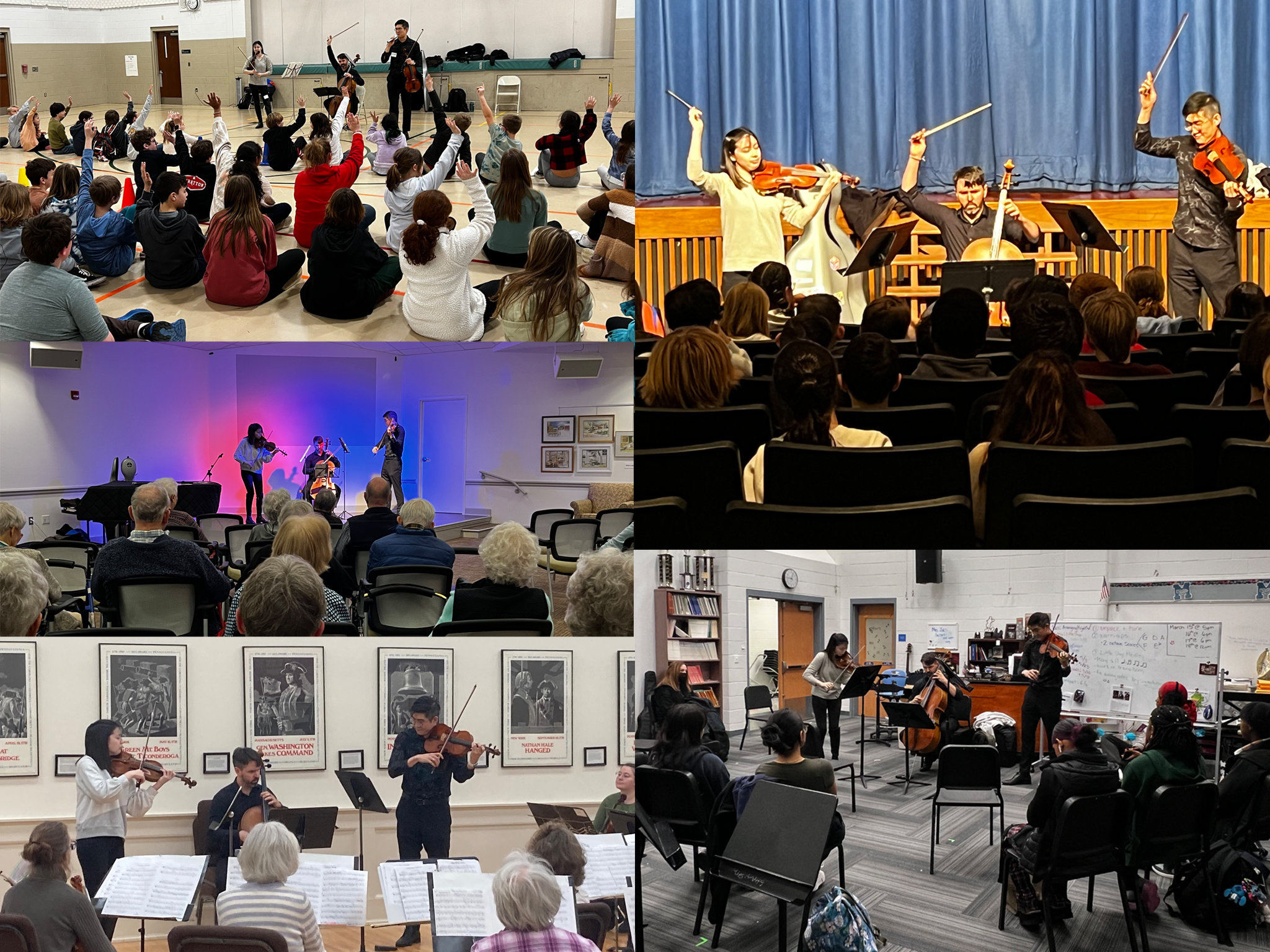 As part of its robust outreach program, EWS brings highly accomplished musical artists to schools, senior residences, and community organizations in several Shoreline communities each year.
Following its amazing March 12, 2023 performance, the ambassador string trio from Project: Music Heals Us provided four days of outreach throughout Middlesex and New London Counties. This nonprofit has gained press worldwide for their performances with isolated Covid patients and marginalized populations … "bringing the healing Power of Music to those who need it most." Performers Andre Janss (cello), Stephanie Zyzak (violin), and Brian Hong (violin and viola) visited schools and senior communties, touching the lives of nearly 3,000 area individuals of all ages at approximately a dozen facilities. A free, open-to-the-public masterclass at the Essex Town Hall in conjunction with the Community Music School orchestra was a highlight. This overall outreach effort is possible in part with grant funding from the Community Foundation of Middlesex County and the generosity of the River View Cemetary Fund and Elizabeth Swaim Arts Enrichment Fund; with the support of the Connecticut Department of Economic and Community Development, Office of the Arts, which also receives support from the National Endowment for the Arts, a federal agency; the Kitchings Family Foundation, and Essex Savings Bank through its CIP funding.
2022: Resurgam Quartet: Harry Kliewe, soprano saxophone; Sean Tanguay, tenor saxophone; Colette Hall, alto saxophone; Michael Raposo, baritone saxophone
2020: LINÜ: Gulli Bjornsson and Jiji, guitarists
2019: Tai Murray, violin
2018: Quodlibet Ensemble
2017: Argus Quartet; Matthew Russo, trombone; Aaron Plourde, trumpet
2016: Tessa Lark, violin
2015: Attacca Quartet
2014: Leelanee Sterrett, horn; Paul Murphy, trumpet; Stephen Dunn, trombone
2013 Romie de Guise-Langlois, clarinet; Carl Oswald, oboe, Adrian Morejon, bassoon
2012: Kelli Kathman, flute; Carl Oswald, oboe; Adrian Morejon, bassoon
2011: Katie Hyun, violin; Wei-Yang Andy Lin, viola; Mihai Marica, cello
© Copyright 2022 Essex Winter Series. Essex Winter Series is 501(c)3 non-profit organization that has provided quality arts presentations for the Connecticut River Valley and Shoreline communities since 1978. EIN#06-0991889.