Welcome to our 2022 Season!
Fenton Brown Emerging Artists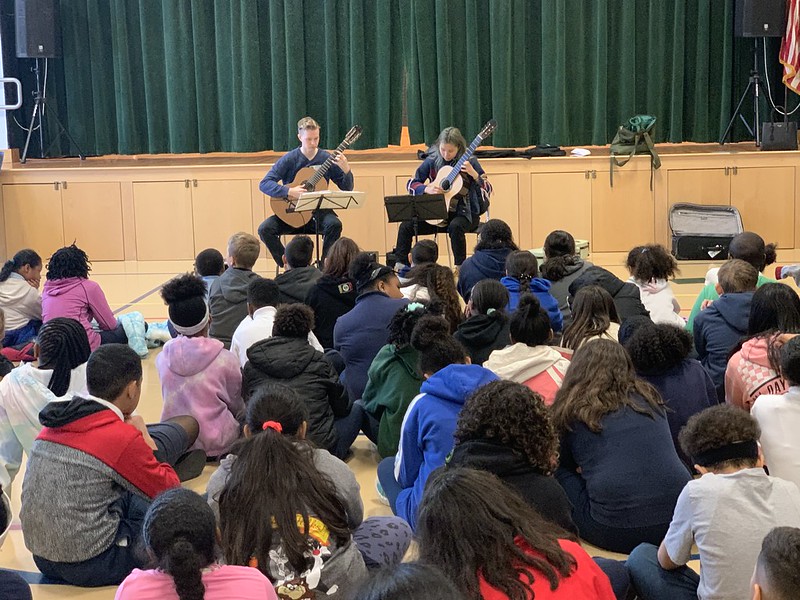 As part of its robust outreach program, EWS brings highly accomplished musical artists to schools, senior residences, and community organizations in several Shoreline communities each year. Guitar duo LINU was the 2020 Fenton Brown Emerging Artist and performed a concert on March 8, 2020. The following day, they began a 3-day residency with Essex Winter Series Artistic Director Mihae Lee as part of our outreach program. Guitarists Gulli Bjornsson and Jiji visited several schools and community organizations in Middlesex and New London Counties, performing and teaching through workshops and master classes. These included programs for students at several elementary, middle and high schools; a performance for residents of Masonicare at Chester Village and Essex Meadows; and a master class for guitar students of the Community Music School in Centerbrook. The outreach programs are generously sponsored by the EWS Fenton Brown Circle, the Kitchings Family Foundation, and an anonymous friend.
2019: Tai Murray, violin
2018: Quodlibet Ensemble
2017: Argus Quartet; Matthew Russo, trombone; Aaron Plourde, trumpet
2016: Tessa Lark, violin
2015: Attacca Quartet
2014: Leelanee Sterrett, horn; Paul Murphy, trumpet; Stephen Dunn, trombone
2013 Romie de Guise-Langlois, clarinet; Carl Oswald, oboe, Adrian Morejon, bassoon
2012: Kelli Kathman, flute; Carl Oswald, oboe; Adrian Morejon, bassoon
2011: Katie Hyun, violin; Wei-Yang Andy Lin, viola; Mihai Marica, cello
© Copyright 2021 Essex Winter Series. Essex Winter Series is 501(c)3 non-profit organization that has provided quality arts presentations for the Connecticut River Valley and Shoreline communities since 1978. EIN#06-0991889.